UAEU participates in GITEX 2017
Prof. Albaili: We are ready to keep pace with the new digital technologies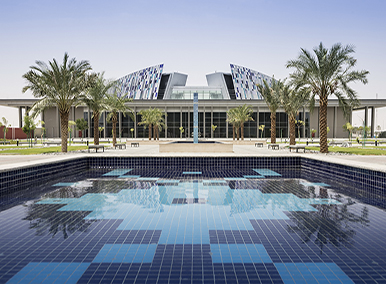 United Arab Emirates University (UAEU) participated with a number of innovative technology projects at the GITEX Technology Week Exhibition 2017, which is held during 8-12 Oct. at Dubai World Trade Centre.
Professor Mohamed Albaili, UAEU Vice Chancellor, emphasized that GITEX is a regional and international center for IT companies and is a huge technology platform that displays state-of-art smart applications of the latest products and brands. GITEX provides a platform for national institutions to develop its services and to benefit from new technologies.
"UAEU, the University of the Future is capable of shaping a better future in the technology world," adding "UAEU is replete with new innovations, which consolidate its prestigious position and the country's status at large, leading up to internationalization," said Pro. Albaili.
He explained that UAEU is committed to participating in such international exhibitions in order to support innovations and innovators, contribute to the exchange of knowledge and skills, and adapt them to serve the community. Prof. Albaili highlighted the role of technology, as a major factor in the economic growth nationally and internationally, and in tackling financial, economic, knowledge and social challenges.
This year, UAEU puts forward more than 10 innovative technology projects including the Dwak project, the first of its kind in the region to provide an automatic personalized reminder service aimed at ensuring patients never miss taking their medicine. The ZEOPI project is another example, which uses natural stone to make the undrinkable water drinkable with a very high standard. The ALGALIFE project, carried out by a female team, aims to use innovative method to produce ink from algae.