Academic Advising
What is Academic Advising?
At UAEU, Academic Advising is an integral part of Undergraduate Education. Its purpose is to assist students in taking responsibility for their own learning, and develop meaningful educational plans compatible with their potential and their career and life goals. It includes helping students formulate important questions about their own aptitudes and interests and the best education pathway for each individual advisee. Advisors also assist students in discovering the many resources on campus and, more importantly, provide ongoing encouragement to students to use these resources consistently and with purpose.
Pre-Major Advising
Academic Advisors provide pre-major advising to students who have yet to declare a major. These students include foundation students as well as students taking general education courses.
Advisors direct students to courses they should take according to their respective study plan, assist students in deciding on a major, suggest academic assistance for struggling students, and explain the relevant registration procedures and policies.
Our Services:
Our goal is to provide maximum support and guidance to students as they navigate their way through curricular requirements, academic challenges, leadership development opportunities, and career choices and pathways.
Assist students at any point during the semester where students are experiencing academic difficulty.
Create a plan for students to overcome their academic difficulties. How?
Direct students to University resources and centers such as the Tutorial Center, ILC, Writing and Speaking Centers and other resources.
Plan and direct students to select the General Education courses for current and upcoming semesters.
Encourage students to develop through interactions and workshops tailored specifically for them.
Assign a Peer Advisor (upper level students) to students who can offer them help, information, and support when students first come to University. Peer Advisors share their experiences with students from a student's perspective.
Resolve issues students may have in the classrooms.
Supervise and review a pre-major student's academic standing and progress towards completing their graduation requirements.
Our Programs (LEAD Program)
L.E.A.D. (Leaders Emerging and Developing) is a community of students who share the common goal of a strong and successful start to their university experience. LEAD supports these students in the areas of understanding expectations, making best use of resources, networking, and self-awareness. The LEAD Learning Community engages students in a variety of activities which set new students on a path of high academic achievement.
The key features of the LEAD Learning Community are personal interactions with Academic Advisors and Peer Leaders, and participation in an online LEAD organization in Blackboard.
New students who join the LEAD Learning Community will be mentored from their first day on campus, and participate in interactions, workshops, and initiatives that foster the exploration of learning. LEAD emphasizes the value of community relationships. Peer Advisors guide new students in forming community bonds and encourage them to use all resources at their disposal. All courses of study are ambitious and require systems of management which address the means to control and organize the flow of knowledge, making it both useful and accessible. The Learning Community offers an ideal way for students to access a wealth of knowledge while at the same time contributing to that wealth.
There are a substantial number of At-Risk students at UAEU who are identified and supported by our Academic Advising initiatives. The Peer Advisor program is one such initiative, in which select students are trained to reach out to those with low CEPA scores or low results on exams. Under the guidance and supervision of Academic Advisors, these Peer Advisors share their resources and experiences to encourage students to keep trying, and to avail of the Campus Learning Centers. We also believe that preventive measures can be taken to reduce the possibilities of falling into an At-Risk scenario.
On a daily basis, Academic Advisors handle referrals from teachers, some of which are academic and some behavioral. Behavioral issues vary greatly according to the individual student, and must be handled with sensitivity and professionalism. The process of addressing behavioral issues is a complex one, involving time and attention to all of the details as provided by both student and teacher. Teachers use an online referral and tracking system to log concerns and/or specific incidents which must be addressed. While this is an excellent means of communication and data collection, resolution comes down to the Advisor/Student interaction. Clear communication in the form of personal meetings with both teachers and students is essential. Furthermore, follow-up and consistency are keys to long-term problem resolution.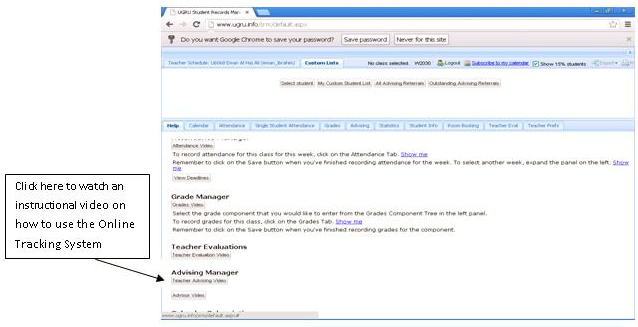 The above is an image of the Online Tracking System that shows where you need to click, to watch an instructional video. Click on the above image to activate the Online Tracking System.
What is the Peer Advisor Program?
The Peer Advisor Program assists new students, students in the foundation program and general education students by providing personalized, and sensitive support. In addition, the program offers a wide range of activities from orientation to workshops and seminars.
Who are the Peer Advisors?
Peer Advisors are UAEU students, who are knowledgeable of the UAEU campus, resources and are committed to making students' move to the university environment easy and enjoyable. In addition to their experiences as students, peer advisors have completed special training sessions that augment their knowledge of the campus.
What Are the Program Objectives?
To provide students with a caring, and supportive environment.
To promote academic excellence.
To inform students of the services and resources available at UAEU.
To encourage involvement in University organizations and activities.
To foster University "ownership" and pride.
To increase retention.
What Do Students Say?
"I am so happy, you, the peer advisor has supported me to succeed academically."
"It was the Peer Advisor Program that kept me here."
"I am grateful to my peer advisor who has shown me that there is much more to university than just classes."
"The peer advising program gave me an opportunity to meet other students whom I bonded with, and staff who gave me great support."