UAEU Cultures Innovative Spirit and Academic Achievement in Young Scientists
The United Arab Emirates University (UAEU) has long served as a valuable and efficient platform for prospective researchers to propel themselves into the world of science.
Sidra Siraj, a postgraduate student at the university is one of them – having completed her bachelors, masters and currently pursuing her PhD all at the UAEU. Her supervisor once challenged her to find a local resource and find an innovative way to use it for the good of the community. She chose sand. Ms. Siraj channelled her learning from degrees in chemical engineering and that led her to pursue work in utilising local sand in the UAE to create paper-based products. Encouraged by the university faculty, she applied for a patent in 2017 during her undergraduate studies and receiving the awarded patent from the United States Patent and Trademark Office (USPTO) whilst studying for her masters in 2019! What motivated her the most, she recalled, was the encouragement she received from her faculty at the university. "The advisor support is very important, which, in my case, was beyond all expectations," Ms. Siraj said. "I give full credit to Professor Ali Al Marzouqi and dedicate all of my success to his inspirational guidance and leadership."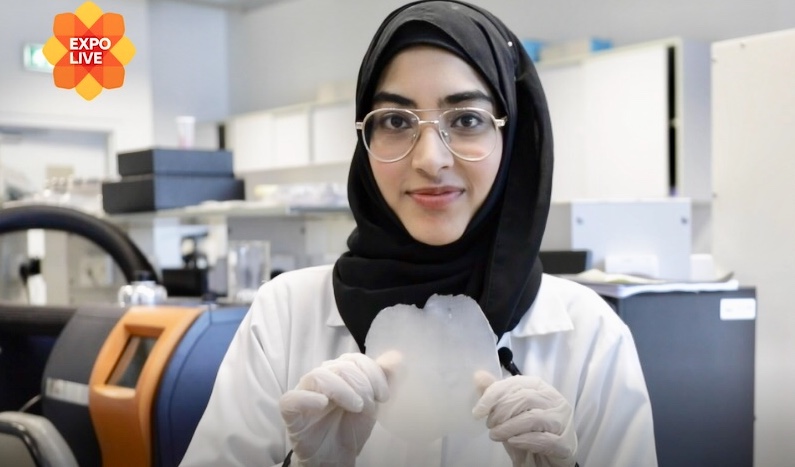 She spoke of his vital presence in the university laboratories during her initial experiments in 2017. Prof. Al Marzouqi had specifically carved out time to guide his students as they developed their ideas, an element Ms. Siraj saw as extremely motivating to persevere in her endeavours. At every milestone she reached, he was by her side, ensuring she kept pushing her research forward while encouraging her to take part in a number of different competitions and international conferences. "That support really encouraged me to take it to the next level," Ms. Siraj said. Her product has not reached commercial stages yet, however Ms. Siraj has high hopes it will in the near future. Her work falls in line with the UAEU's agenda, which includes sustainability. "The UAE and the Middle East are well known for their work in sustainability through initiatives such as solar energy, but we wanted to think of accessibility on the ground," she added. "Then the idea of sand came up because it is a potential resource that can benefit society while helping the environment." The university's support has been key in Ms. Siraj's exposure and motivation, a highlight was occurred in 2019 when she was accepted as one of the only female scholars at Harvard University for one of their conferences, The Harvard Project for Asian and International Relations (HPAIR). The conference gathers youth from around the world to discuss pressing global topics and attempt to find viable solutions. "It has different tracks," Ms. Siraj explained. "and I was chosen for the sustainability and environmental track." She commended the UAEU, in particular the Science and Innovation Park, for its unconditional support for her to attend the conference, for making it financially possible, and overall, an unforgettable experience.
The university's support of Ms. Siraj extended into 2020 when she applied for and was selected as one of the delegates of The American Middle Eastern Network for Dialogue at Stanford (AMENDS), a collaboration with Stanford University to promote the idea of sustainability. Although placed on hold due to the coronavirus pandemic, it is due to take place this year. The aim of the Ted-style talk will be to promote sustainability by gathering youth to share their ideas with others from around the world and promote them further, while forming networks. Encouragement from the UAEU also came in other forms, namely allowing students to access its state-of-the-art facilities, which further enabled Ms. Siraj to apply herself to the task and achieve success. The polymer, biomass and sustainability laboratories allowed her to produce vital composite products she used in her project. She spoke of plans for new equipment that will help expand her idea further, adopt a wider approach and produce on a larger scale.
Study results were presented at the Materials Science Forum in Singapore in June 2020 and published here
Ultimately, she highlighted the university's academic freedom, which enabled her to apply for key opportunities that came her way. From the local Think Science competition, which took place in the UAE in 2017, to many others, Ms. Siraj was able to add crucial elements to her education which benefited her own knowledge expansion. "We were given freedom to go into the UAEU labs and try experiments to see what works," she said. "That was one of the positive and most exciting points from the academic style here."
She was also asked to take part in a competition with Expo Live, entitled the University Innovation Programme, to come up with her own invention. Ms. Siraj won the title in 2018, giving her access to a Dh50,000-grant. She continues her work with Expo Live to showcase her products at the event this year under the UAEU umbrella. "That was the idea of the collaboration with Expo Live and the UAEU," she concluded. "I hope it will be showcased in October this year – I would be so excited about it".
Do you find this content helpful?
لايوجد محتوى عربي لهذه الصفحة
يوجد مشكلة في الصفحة التي تحاول الوصول إليها