UAEU Graduate Wins First Prize in Sociology
Shamma Alneyadi is a graduate student at the United Arab Emirates University (UAEU) who has developed an interest in the fertility intentions of young female Emiratis.
Her goal was to find out the ideal number of children that Emirati women wish to have in the future as part of their family. After surveying 210 young women from the Abu Dhabi region aged between 18 and 29, she found the ideal number of children according to young Emirati women stood at four.
Alneyadi initially became interested in the field after she noticed that women in the UAE were bearing fewer children citing reasons including finances and a wish to pursue studies. That led her to ponder the future of her society and to find out how she could contribute to the study of the UAE's demography.
With the support of her teacher, Dr Tatiana Karabchuk, Professor in Economic Sociology and Demography at the University's Department of Government and Society, the project was an instant hit. Alneyadi won first place in the category of Sociology in the 8th Undergraduate Research Competition, organised by Abu Dhabi University, followed by two other students from the UAEU. "When I won the competition, I felt happy and proud," she said. "And I was grateful to my professor because she encouraged and guided us to register in this competition."
For the young Emirati, finding out such information is crucial to be able to monitor the acceptable population conditions in the coming years and what can be made possible for future fertility rates. Such research will also provide young Emirati females with a clearer picture of their intentions in the future as the priority of many, today, is more geared towards education and work. "Being a mother is not their first priority," explained Alneyadi, who has been extremely busy on the sidelines completing four months of training at the community police in Al Ain and taking on another one-month training at the Abu Dhabi Early Childhood Authority, in order to add to her knowledge.
She now plans to resume her project by expanding its scale to include at least 1,000 women across all seven Emirates. This will make her results more accurate and reflect the situation in the country as a whole.
Although she has completed her degree, Alneyadi is adamant to pursue her project outside from the University, which helped provide her with a number of crucial tools to succeed in her research. Some of them include an adequate environment for students to excel and providing easy access to different facilities, such as the University library, the Student Access Centre and the Help Centre. For Alneyadi, university life was not always as straight-forward, as she initially struggled with the English language. But the University came through for her by helping her in acquiring an International English Language Testing System (IELTS) certification through its very own centre. "A teacher at the University helped me study and work hard to have it," she added. "The Student Help Centre was also helpful because students teach others in their own major and help them to succeed."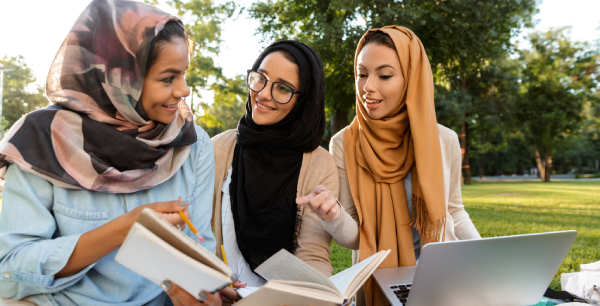 Karabchuk was also instrumental in her journey, as she encouraged and supported Alneyadi in her major to understand sociology at a deeper level. She described her teacher as providing a foundational support and guidance system in terms of her research. Prior to the COVID-19 pandemic, Karabchuk would regularly take her students out on educational trips, to places such as the Ministry of Education, to further help in their research. After the pandemic hit the UAE in March 2020, Karabchuk reverted to sending her students online education lectures on knowledge data and ways in which to analyse data in their research. She also helped them in attending online conferences, including one where Alneyadi presented her own work. "She really helped us in our success," she added.
She described her five years at the University as an interesting phase, during which she learned a lot, not only scientifically, but on a societal and personal level. Alneyadi was able to acquire different skills in several fields, and faculty members and students alike helped her deal with her difficulty in social communication. The various activities also assisted in investing in students' knowledge, and the diversity of students from different disciplines in classes and cultural requirements helped in expanding knowledge in different fields, while getting to know a group of successful students.
Although Alneyadi has now completed her educational degree at the University, Karabchuk continues to assist her with guidance in her research project. "The UAEU is not only about studying," she concluded. "I enjoyed studying there, it is hard, but students enjoy the University itself because all faculty members are helpful, and they try to make every student's work a success".
Do you find this content helpful?
لايوجد محتوى عربي لهذه الصفحة
يوجد مشكلة في الصفحة التي تحاول الوصول إليها