UAEU PhD Student Finds Passion in Education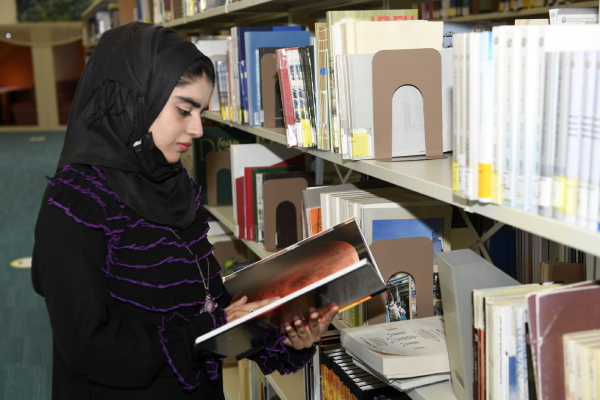 Young Emiratis across the UAE have developed an interest in South Asian entertainment over the past few years. Urwa Tariq, PhD Candidate in Mass Communication at the United Arab Emirates University (UAEU) has set out to dive deeper into the topic through her "Hallyu [Korean Wave] Impact Study". One of her PhD courses was about discovering interesting matters in local society, and Ms. Tariq noticed the attraction of Emirati women to South Korean entertainment. Her professor agreed, and Ms. Tariq kicked off her research in the field in 2017.
Stemming from a business background, she had not been exposed to academic research, so she began training with Dr. Maha Bashri, Associate Professor in Media and Creative Industries. "I give her the credit," Ms. Tariq said. "She exposed me to the world of academic research and emphasised the importance of taking up research themes which are rarely spoken about – she taught me to take the credit for my ideas and my individual work."
She found very few research papers had been published about UAE youth and society, the local media consumption pattern, and how digital media impacts the new generation. Today, five years on, she believes she can contribute to filling that gap, through research work and her PhD thesis. Ms. Tariq discovered at an early stage the long process of publishing a research paper including careful journal selection and avoiding predatory journals. Two and a half years later, her paper has finally been published in the Common Grounds Scholar:
Tariq, Urwa . 2021. "Say Hello to the Digital Hallyu Wave in the UAE: The Rising Digital South Korean Wave among Emirati Women and its Impact on their Cultural Identity." The Journal of Communication and Media Studies6 (3): 1-14. doi:10.18848/2470-9247/CG
Following her first project, Ms. Tariq worked on her next research project studying Japanese Anime fandoms in the UAE, focusing on media accessibility, habits and cultural perceptions. Her previous paper on Korean entertainment led her to notice the exposure of Emirati youth to Japanese anime 30 years ago. Today, these youth have created cartoons and entertainment shows that have unfortunately not amassed the audience or interest they had hoped for. Asked about the reasons, most respondents pointed at the poor quality of the content, a lack of government support in terms of career and not enough resources to compete with international media.
As she moved on to her third collaborative paper, Ms. Tariq focused on Emirati female illustrators, who she discovered had created their own virtual world on the social media platform, Instagram, to visually express themselves. "Social media has helped them to escape the reality of society and express themselves freely," she said. "The illustrations are not just cartoons, they express meaning." After interviewing around 25 professional illustrators, she discovered that they were aware of their potential but felt a lack of support from the government and the media. As a result, such a lack of exposure and encouragement created a gap where many do not feel recognised.
The extensive research undertaken by Ms. Tariq for all three papers required ample support. Dr. Meera Al Kaabi, Chair of the UAEU's Linguistics Department, supported Ms. Tariq by exposing her to teaching right from the beginning of her PhD. She became a Teaching Assistant and was entrusted to lead her first classes.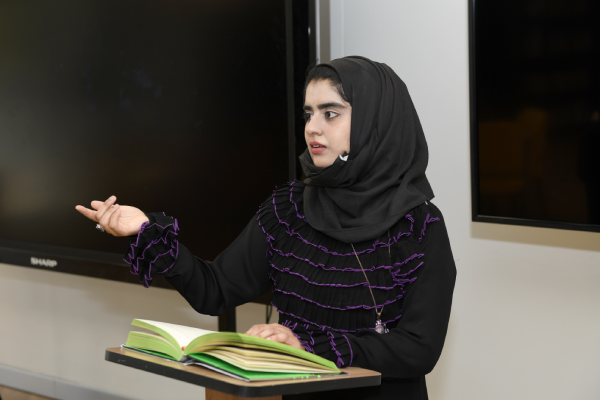 Soon after, she was noticed by Dr. Fadwa Al Mughairbi, who was an Assistant Dean of the UAEU's College of Humanities and Social Sciences in 2018. "When you show eagerness to learn as a student, you will get support," Ms. Tariq noted. That support led her to enrol in a Teaching Academic Programme 2019 at the University's College of Graduate Studies – an intense one-year course for PhD students to learn about teaching and research. She was also exposed to using digital technology in student interactions, while training in curriculum building and course syllabus. "We had theoretical lessons and then we were assigned to our colleges," she said. "I was shortlisted by my advisor, so she became my shadow teacher. It helped a lot – I was under her for two semesters leading classes, creating and marking exam papers, and we were trained from A to Z."
Ms. Tariq gave full credit to the UAEU for such training, describing her PhD experience as one of the best in her life. "I felt really enthusiastic the whole time," she added. "If you are passionate about something, everything flows easily." Her main takeaways have been learning to become more focused, to the point, and professional. The University provided her with the tools to achieve such skills and completed her full cycle of education. This, she stated, is a very important aspect to learn within this region as "teaching is an art: the more creative it is, the higher chances of empowering students, and mentors should be trained beforehand."
Now in her last semester, Ms. Tariq is looking for on-the-ground experience, as she pursues her part-time work with the UAEU's College of Business and Economics in its new MBA programme, due to launch soon. "It gives me a good idea of how things are going to be when it comes to launching new programmes, getting students and course-curriculum building," she concluded. "The journey has just started".
Do you find this content helpful?
لايوجد محتوى عربي لهذه الصفحة
يوجد مشكلة في الصفحة التي تحاول الوصول إليها