About CAVM
Overview
The College of Agriculture and Veterinary Medicine (CAVM) was first inaugurated as the College of Agricultural Sciences in the academic year 1980/1981. At that time the academic structure included only two departments, namely, the Department of Plant Production and the Department of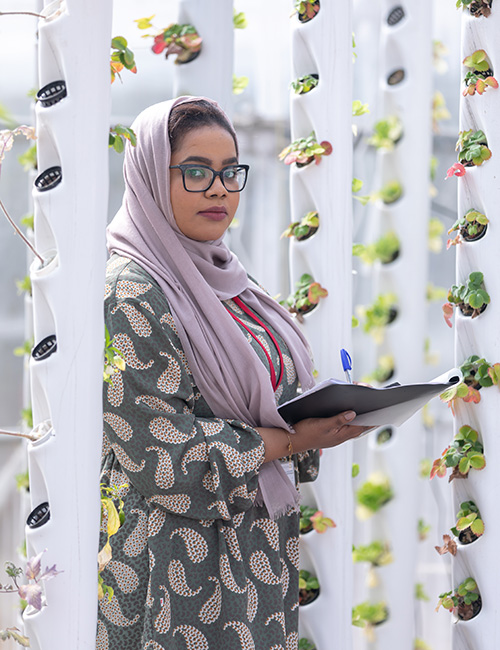 Animal Production. In 1995 the college program was further developed to focus on 'Arid Land Agriculture' and 'Food Science and Nutrition' by adding the Department of Food Science and Nutrition.
Then in 2001, United Arab Emirates University (UAEU) took a major step in transforming the College of Agriculture Sciences to reflect the vision of a 21st century university and to follow the evolving nature of higher agriculture education where agriculture became an industry and a component of the economy and society. The University designed a new curriculum to meet the needs of the UAE and to conform to the latest trends and concepts of agricultural education of the new millennium.
The new interdisciplinary curriculum is based on the concept of vertically integrated systems and encompasses production agriculture, food processing, agribusiness & natural resources, and the environment.
The CAVM now consists of three departments: the Department of Integrative Agriculture; the Department of Food Science; and the Department of Veterinary Medicine, each offering a wide range of undergraduate and graduate degree programs. The language of instruction is English and the faculty focus on the quality of the learning experience for each student. The CFA continues to support the UAE, which is committed to being a knowledge-based economy, in which education and research play a critical role.
Dean's Message
The College of Agriculture & Veterinary Medicine (CAVM) is a unique national asset. It is a beacon of distinctive learning that shares valuable knowledge regarding plant/animal health and production with youth aspiring to be future leaders/experts in these disciplines. The college is indeed more focused on Agriculture and Veterinary Medicine than ever before to ensure food security, safety, and sustainability.
The college welcomes new undergraduates (Bachelors) and graduates (Masters and Ph.D.) to our diverse professional programs in Agriculture, Food Science, and Veterinary Medicine. Our research farms and laboratories are an integral part of our social and societal responsibility and a key to our interaction with the industry and national agencies.
In the 2020s era, the Covid-19 pandemic has brought food security to the national forefront. UAE's aspiration to be #1 in the Global Food Security Index by 2050 is serious. CAVM will play a decisive role in fulfilling these aspirations by producing graduates in key areas that will support the goal while engaging in R&D that will facilitate the advancement of this goal.
At a time when food security, safety, and nutritional value of food are of paramount importance, the College plays vital roles in three key areas: Agriculture, Food Science, and Veterinary Medicine. We aspire to be national and regional leaders in these areas and have dedicated ourselves to providing high-quality education and research, which benefits the nation and all our constituents. The CAVM Business Plan 2021-2023 is a roadmap to this progression.
We endeavor to engage young people and intend to develop local Emirati expertise. We aim to produce a new generation of leaders with the vision to further advance these key areas as the United Arab Emirates marches into a new era of innovation, entrepreneurship, and self-sufficiency.
Our students are the most important pillar of this College. They are our hope and inspiration for the future. Moreover, they are the reason why we, the faculty, staff, and administrators, come every day with excitement and enthusiasm to ensure that they acquire the best knowledge and skills in food, agriculture, and veterinary medicine. We will continue to strive towards making learning challenging, curiosity-driven, result-oriented, and fun. We aim to graduate students who will have an eye on tomorrow's global food security problems and will lead the nation and the world in finding sustainable solutions.
The future of the college lies in research. We envision interdisciplinary research laboratories of excellence that align with national needs. In promoting these centers, we will draw expertise from various colleges at the UAEU, collaborate with national institutions and organizations, and engage with leading universities from around the world. These laboratories will serve as a national think-tank fulfilling our aspiration to be regional and global leaders in select disciplines.
I see the coming years 2021-2023 as an exciting period for the college. We are embracing change outlined in our Business Plan, and seek to position ourselves as a regional leader in key disciplines vital to the Middle East and beyond for strengthening nutritious food production.
The College of Agriculture & Veterinary Medicine welcomes you to partner with us in your educational journey and in developing solutions important to the industry and society.
Dr. Mohammed Abdul Muhsen Salem Alyafei
Acting Dean, College of Agriculture & Veterinary Medicine
Mission
The College of Agriculture and Veterinary Medicine is committed to the UAE growth and development. Its mission falls into three main points:
To offer high quality programs and provide the country with qualified needed graduates.
To conduct high quality research to better meet national needs and international standards.
To establish effective partnerships with public and private sectors.
Accreditation
All programs of the College of Agriculture and Veterinary Medicine (CAVM) are fully recognized by the UAE Ministry of Education. The CFA has received accreditation for three academic B.Sc. programs (Horticulture, Marine Fisheries and Animal Science, Agribusiness) by the Agricultural Institute of Canada (AIC). On the other hand, the Food Science program is accredited (approved) by the Institute of Food Technologists (IFT) in the USA.
The College farm is ISO certified for quality (ISO 9000) and for environment (ISO 14000), and all our laboratories have obtained a health and safety certificate (OHSAS 18001). In addition to this, the Animal Nutrition Laboratory is accredited by the National Forage Testing Association.
Facilities
The CAVM has acquired some of the most cutting-edge laboratories in the region. The CAVM laboratories provides analytical testing and research-based recommendations to support sustainable resources management decisions. The laboratories offers comprehensive analysis of food, feed, plant tissue, soil, water, toxins, manure and other agriculture materials. The CAVM labs include:
Agronomy Laboratory
Fish Laboratory
Horticulture Laboratory
Soil & Water Research Laboratory
Animal Nutrition Laboratory
Biotechnology Laboratory
Animal Physiology Laboratory
Data Processing Laboratory
Sensory Analysis Laboratory
Food Chemistry Laboratory
Food Physics Laboratory
Food Preparation Laboratory
Food Microbiology Laboratory
Food Research Laboratory
Pilot Plant Laboratory
Veterinary Histology/ Histopathology and Clinical Pathology Laboratory
Tissue Processing Laboratory
Veterinary Physiology/ Pharmacology and Toxicology Laboratory
Veterinary anatomy Laboratory
Veterinary Virology and Immunology Laboratory
Veterinary Bacteriology and Mycology Laboratory
Veterinary Parasitology and Entomology Laboratory
Molecular Biology Laboratory
Partners
International Partners
Romer Labs

Osnabrück University

Michigan State University

World Health Organization
Local Partners
Al Foah Company

Grand Mill of Agthia Group

Abu Dhabi Food Control Authority

Abu Dhabi Farmers' Service Center

Western Region Development Council, Abu Dhabi (WRDC)
Community Service
The College of Agriculture and Veterinary Medicine (CAVM) provides a wide range of services to the UAE community. Types of services offered include testing programs, consultancy and training. The CAVM laboratories provides analytical testing and research-based recommendations to support sustainable resource management decisions. The laboratories offer comprehensive analysis of food, feed, plant tissue, soil, water, toxins, manure and other agriculture materials. In addition to this, they also have the Nutrition Clinic and the Who Collaborating Center.
Type of Services:
Agronomy Lab Services
Fish Lab Services
Horticulture Lab Services
Soil & Water Research Lab Services
Animal Nutrition Lab Services
Sensory Analysis Lab Services
Food Chemistry Lab Services
Food Physics Lab
Food Preparation Lab
Body Composition and Fitness Lab
Biomedical Analysis Lab
Poultry Diagnostic Lab
Pilot Plan
The CAVM offer consultancy in many area such as:
Weight management
Dietary management for individuals
Meal planning for athletes
Design of agricultural building
Irrigation systems design
Site planning of agricultural projects
Accredited continuing medical education for health professionals
Training in Aquaculture and Aquaponic
In addition, the CAVM along with the College of Business and Economics has established a partnership with the Khalifa Fund to design an effective business incubation program for the food sector to help foster an entrepreneurial culture among local female Emiratis. The Food Innovation Program is the first of its kind in the Middle East and North Africa (MENA) region and one of the very few programs globally that is fully integrated with a University that caters for:
Farmers looking to develop value-added products;
Restaurant owners interested in producing products for retail sale (salad dressings and sauces);
Talented bakers or cooks who want to sell their products; and
Anyone looking to start a food business.
Do you find this content helpful?
لايوجد محتوى عربي لهذه الصفحة
يوجد مشكلة في الصفحة التي تحاول الوصول إليها