About CBE
Overview
Since 1977, we have been welcoming students to study with us at the College of Business and Economics. From humble beginnings with only a handful of degree programs, we have grown to become one of the highest internationally ranked Colleges at the University (according to the QS and THE rankings).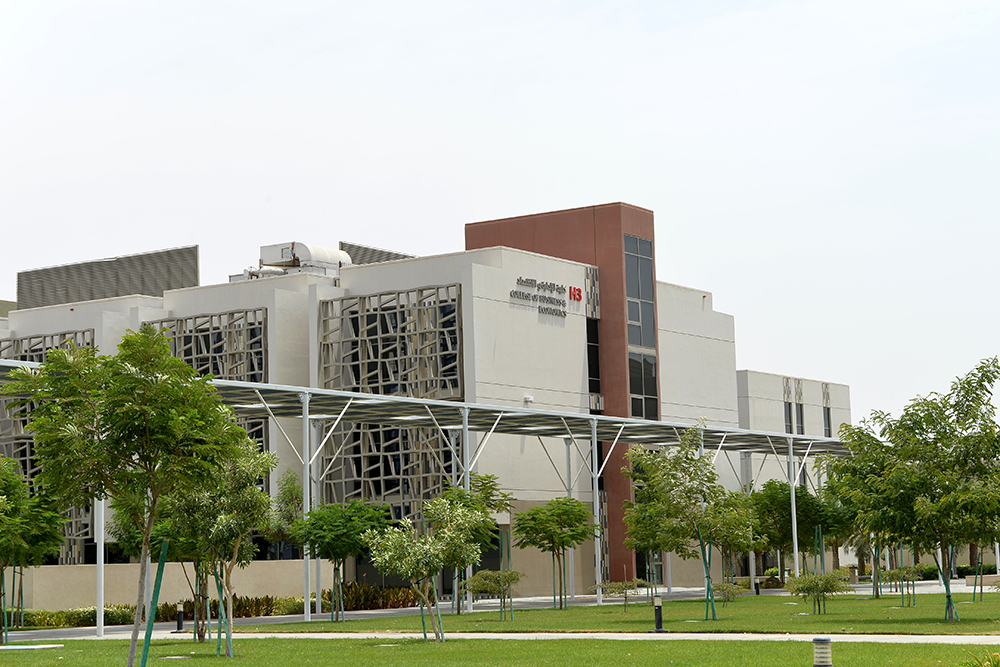 The College's degree programs are accredited by AACSB International. AACSB members are only AACSB-accredited if they are able to satisfy a wide-ranging, rigorous set of quality standards. As such, the College is able to demonstrate that it provides a relevant, challenging curriculum delivered by faculty of a high caliber, and excellent educational and career opportunities. The graduates we produce are therefore highly skilled and very desirable to employers. We were the first institution in the United Arab Emirates and in the region to be accredited by the AACSB, back in 2000.
The College has 82 full-time faculty members drawn from around the world and more than 30000 undergraduate and postgraduate students working and studying across 5 interdisciplinary academic departments (Makreting and Entrepreneurship, Management, Statistics and Business Analtyics and Economics and Finance). The College also teaches in 2 locations: Al Ain and Abu Dhabi and has a global network of influential alumni.
The College prides itself in supporting the UAE in its commitment to being a knowledge-based economy in which education and research play a critical, central role. While we embody all of the traditional aspects of a university-based business school, we believe that true learning comes from being able to apply the theory you learn in the classroom to the real world of business. Through our valued public and private sector partners, our students can take on a wide variety of internships, placements and projects that support their learning, and provide opportunities and networks that can help change their future.
Dean's Message
Welcome to the College of Business and Economics (CBE) at the United Arab Emirates University (UAEU). We are honored that you are interested in continuing your education with us.
High-level business professionals serving on our Executive Advisory Board have guided us in establishing a vibrant and supportive learning environment with cutting-edge curricula that has enhanced our reputation and the employability of our graduates. Our faculty experts research a broad range of topics that provide insights into new ways of thinking and learning for business and society. Our faculty and professional staff's skills, knowledge and commitment combine to enrich the student learning experience.
The College is recognized around the world because of our accreditation from AACSB International – The Association to Advance Collegiate Schools of Business (AACSB) - the premier accrediting body for business programs. It is a testament to the College's excellence and its commitment to continuous improvement. In the year 2000, CBE was the first College of Business in the region to achieve AACSB accreditation. Today, we are the only business unit in the Middle East, and one of only 190 institutions in the world, to hold both business and accounting accreditation. Less than five percent of business programs globally are accredited by AACSB.
The CBE educates more than 1,500 students annually across five undergraduate degree programs in Accounting, Finance & Banking, Business Administration, Economics and Statistics and Data Analytics, three master's programs, and a Doctorate program in Business Administration, in addition to a minor in Entrepreneurship, all academically driven by faculty members from five interdisciplinary departments.
We continually strive to improve our teaching and educational experiences for our students (both in the classroom and beyond) in order to provide:
Encouraging guidance from expert faculty
Instruction with a global consideration
Leadership and managerial training from group work and participation in organizations and clubs
Practical learning through invited speakers, field trips, projects, study abroad programs and internships
Professional support and career development
We have much to offer and want to help you achieve your professional goals and dreams. We look forward to welcoming you to the College and supporting you as you build your future.

Prof. Mohamed Madi
Dean, College of Business and Economics
Vision, Mission and Values
Vision
Recognized by the local and international stakeholders as business school of reference in high quality research and education.
Mission
To provide student-centered market relevant education, while creating and disseminating new impactful knowledge and best practices, promoting sustainability, entrepreneurship, and engagement with the community and the world.
Values
Excellence in research and teaching
Ethics and integrity
Team and unity spirit
Respect for heritage and cultural diversity
Tolerance and inclusion
Commitment for CBE's stakeholders' interests and priorities
Accreditation
The College of Business and Economics (CBE) was the first college of business in the Middle East to be accredited by AACSB International (The Association to Advance Collegiate Schools of Business (AACSB)). This accreditation includes all undergraduate programs, as well as the Master of Business Administration, Master of Professional Accounting, and Doctorate of Business Administration programs.
In 2012, the accounting program earned separate accreditation from AACSB. The Accounting Department (now part of the Accounting & Finance Department) was the first to achieve this in the GCC and MENA Region and the 10th worldwide, outside of the USA.
About AACSB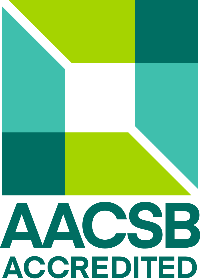 Founded in 1916, AACSB is a global not-for-profit organization that connects educators, students and businesses to achieve a common goal: to create the next generation of great business thinkers.
The AACSB is the longest serving global accrediting body for business schools that offer undergraduate, master's, and doctoral degrees in business and accounting. AACSB Accreditation is the hallmark of excellence in business education, and has been earned by less than 5% of the world's business schools.
There are 856 institutions across 56 countries and territories that have earned AACSB Accreditation in business. Only 188 institutions maintain an additional specialized AACSB Accreditation for their accounting programs.
Achieving and maintaining accreditation is a process of rigorous internal review, evaluation, and improvement. AACSB's Accreditation standards require a mission-driven plan to achieve the quality standards in order to ensure a high quality teaching environment, innovative programming, and active engagement with industry. In addition, all accredited schools must go through a continuous improvement peer review process every five years in order to retain their accreditation.
To realize Accounting Accreditation, an institution must first earn or maintain AACSB Business Accreditation. Then, in addition to developing and implementing a mission-driven plan to satisfy the business accreditation quality standards, accounting accreditation requires the satisfaction of an additional set of standards that are specific to the discipline and profession of accounting.
"In today's global world of management education, it takes a great deal of determination for institutions to earn and maintain AACSB Accreditation," said Robert D. Reid, executive vice president and chief accreditation officer of AACSB International. "Schools must not only meet specific standards of excellence, but all parties involved—deans, heads of business units, academic and non-academic staff—must make the commitment to ongoing improvement to ensure that the institution will continue to deliver the highest quality of education to every student."
Required AACSB Public Disclosure Information on Student Performance can be found here.
Facilities
The College of Business and Economics (CBE) maintains a safe, healthy and attractive campus environment for its students, faculty, staff and visitors at two campus locations in Al Ain and Abu Dhabi. The main campus location in Al Ain (Maqam campus) is a state-of-the-art futuristic model campus complete with all modern amenities to support the needs of the University's teaching, research and service mission.
In Abu Dhabi, CBE's professional graduate programs are delivered from a brand new venue on Plaza 30, Villa A&B- Al Nahyan Camp. Our off-site students in this venue have access to the same complement of educational technology infrastructure available to students on our main campus in Al Ain. Online access is provided through the University server to the myUAEU portal, which is the gateway to educational materials for all UAEU students, including Libraries, Blackboard Learn, E-mail access, Timetables, Online fees payment, etc.
Partners
These are some of the organizations that College of Business & Economics has formed partnership agreements with.
Agthia
Tawazun
Emirates Steel
Etisalat Academy
Abu Dhabi Police GHQ
Abu Dhabi Water & Electricity Authority
Community Service
Faculty members in the College of Business and Economics (CBE) regularly participate in institutional professional and community service and outreach at local, national and international levels. Institutional and professional participation includes serving on university, college and departmental committees for strategic planning, accreditation, curricula, assessment and students, editorial boards for journal and conference publications, conference organizing committees, etc. and reviewing for journals, conferences or research awards.
CBE faculty and staff maintain working relationships with local, national and global organizations in order to enhance teaching, research, outreach, and ultimately student success. Faculty are currently involved in numerous internally and externally funded research projects that address the needs of business and society in the UAE. Students, undergraduate and/or graduate, are collaborating with faculty experts on several of these research projects in order to enhance their research and critical thinking skills.
Faculty in the CBE's four academic departments offer their knowledge and expertise through consulting, training, research, and outreach with public and private organizations around the country and even outside the UAE. Examples include, but are not limited to, the following.
Department of Accounting faculty work closely with accounting firms in order to contribute to the development of the accounting profession in the country and region.

Department of Business Administration faculty have been successful in conducting problem-solving initiatives for local businesses through research-based innovative solutions and publishing about these experiences.

Department of Economics and Finance faculty often share their expertise through conference and workshop presentations on environmental economics, energy economics, international trade and investment, Islamic finance and risk management.

Department of Statistics faculty members regularly organize and present workshops and training on the use of statistics in the workplace.
Do you find this content helpful?
لايوجد محتوى عربي لهذه الصفحة
يوجد مشكلة في الصفحة التي تحاول الوصول إليها