Students
Student Projects
United Arab Emirates University students take part in the Vis Moot Court Competition in Austria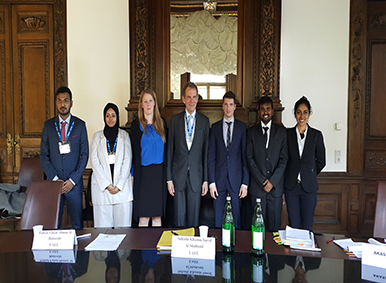 A team of law students from the United Arab Emirates University participated in the 25th annual Vis Moot Court Competition in Vienna, Austria.
The team included students Suhaila Khamis Saeed, Salma Saeed Al Zaabi, Amal Saif Ahmed, Mariam Saeed Al Dhaheri, Fatima Salem Al Ameri and Fahad Faisal Mousa. They were supervised by Dr. Abdullah Al Khatib, Assistant Dean for Professional Development at UAEU, and Dr. Zuhairuddin Mohammed, an associate Professor of Commercial Law.
Dr. Abdullah Al-Khatib pointed out that the team had prepared hard for the after entering in October of last year. This preparation included an intensive training regime supervised by Dr. Mohammad Zuhairdin. The students also trained at the DLA Piper Global Law Firm. Additionally, the team took part in a regional competition in Kuwait (6-10 February). Such competitions prepare students to apply what they have learned at university in real life situations. The judges praised the students highly.
Fahad Faisal Mousa expressed his pleasure at taking part and being able to use his legal skills. These included making legal representations, and defending legal arguments with confidence. He enjoyed identifying legal issues and finding precedents to draft suitable legal notes. He also had to be aware of foreign laws and other legal cultures.
The team took part in the final round of the competition in Vienna from 7th to 14th April. They were required to represent the plaintiff and also the defendant twice each. They met four teams from the world-renowned universities of the University of Ankara (Turkey), the University of Tamil Nadu (India), the University of Minas Gerais (Brazil), and the University of Osnabruck from Germany.
Moot Court Competition
The College of Law at UAEU realizes the importance of combining theoretical knowledge with practical skills in order to enhance students' hands-on-experience in the field of law. Thus, the college adopts Moot Court activities as a teaching method due to its several benefits. In these moots, organized by the college's departments or as part of course work activities, students play legal roles in simulated court proceedings, where they get involved in drafting legal memoranda and performing oral arguments.
Do you find this content helpful?
لايوجد محتوى عربي لهذه الصفحة
يوجد مشكلة في الصفحة التي تحاول الوصول إليها