Following the outbreak of COVID-19 pandemic, the United Arab Emirates University (UAEU) developed and implemented an emergency response plan that was following the guidelines of the UAE government's authorities.
Safety Is Most Important
The first and foremost step that UAEU has taken to insure the health and well-being of students, faculty, administration, and support personnel, was to communicate the knowledge about the nature of COVID-19 pandemic and the ways to prevent its escalation. Information was provided in high-traffic areas via posters and flat panel displays constantly running educational video clips at the UAEU about:
the ways of the viral transmission from person to person and via contamination of surrounding environment
how to use personal protection devices (i.e., face masks and gloves) and social distancing
methods of hygiene and disinfection
the importance of quarantine measures
the early symptoms of COVID-19 infection
contact information for self-referral to hospitals that perform diagnostic tests for COVID-19
Implementing directives issued by the Abu Dhabi Executive Council Executive Committee, hand sanitizers and dispensers of face masks and gloves have been installed at the entryways to all buildings on campus, in front of elevator doors at every floor, at the entrances to offices, auditoriums, and classrooms. Quarantine facilities for 14-day self-isolation have been established for students and faculty who had travelled outside UAE and returned recently. Also, a special assistance was provided to students studying abroad and international students at UAEU.
Additionally, an ISO-certified company specializing in cleaning and disinfection has been hired for routine sanitation and disinfection of all buildings on the UAEU campus, including student hostels. Cleaning and disinfection of buildings is being performed very thoroughly using disinfectant spraying, mopping, and manually wiping all key touch points. In addition to main vestibules, hallways, classrooms, labs, and conference spaces, a thorough cleaning and disinfection has been implemented in toilets, kitchens, storerooms, emergency stairways, on recycling cages and windows. In addition, the university started the implementation of infrared thermal cameras system to measure the temperature of all employees and staff who are entering the campus.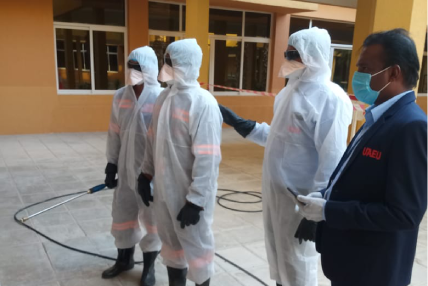 With further escalation of COVID-19 pandemic and in accord with the directive from the Ministry of Education, the UAEU informed students, faculty, and personnel to stay at their homes. Several emergency response policies went into effect, including "stay home", "study online", and "work from home". Only the essential selected administrative and support personnel "skeleton crews" have been allowed to work on campus wearing personal protective devices (face masks and gloves). On April 8, 2020, these policies have been extended till the end of the current academic year 2019/2020.
Readiness for Online Learning & Teaching due to COVID-19
Over more than two decades, UAEU has been adopting emerging educational technologies and teaching & learning pedagogies. The University succeeded in building one of the most efficient and effective Information Technology (IT) Infrastructures among national, regional, and international higher education institutions. This has enabled eLearning to be within the institution's DNA since almost a decade. When coronavirus (COVID19) has taken the whole world by surprise and disrupted very well-established educational systems, UAEU has responded to the threat with four alternative plans to conduct 100% of its teaching and learning activities online and in a very short time. The following summarizes UAEU's enablers to achieve full online distance eduaction:
UAEU has adopted Learning Management Systems for more than two decades. Blackboard Learn has been adopted since its inception and has recently been updated to Blackboard SaaS, which provides online course management and has been utilized as a Virtual Learning Environment (VLE) through which all online courses are managed.
Cloud-based multimedia management information system has been integrated into UAEU's VLE to facilitate the management of interactive online course contents.
A cloud-based Virtual classroom application has be used in conducting classes synchronously and asynchronously.
UAEU has established partnership with edX, based on which UAEUX has been established. UAEUX is housed on edX platform with access to more than 80 million global learners. Several Massive Open Online Courses (MOOCs) are offered on UAEUX to the general public, which has reach 14,000 online learners.
The reliance on the cloud to provide distance education has alleviated any pressure on the UAEU's IT infrastructure. The university piloted the 100% online in one its colleges during the first days in March 2020. The pilot experience was very successful, which encouraged the university to switch to full online at distance in all its nine colleges starting March 4th 2020.
The analytics generated from both the VLE and the Virtual Classroom system show that a daily average of 600 faculty members and 10,500 students are involved teaching and learning in distance classes online. There are around 1250 online sessions are conducted every day and more than 900 of them are recorded to be made available to students online.
The UAEU's Center for Excellence in Teaching and Learning (CETL), Division of IT (DoIT), and Student Affairs (SA) are supporting both 12,634 graduate and undergraduate students and 928 faculty members and instructors via two calling centers, emails, and video conferencing. Communities of Practice (CoPs) such as Blackboardians, Faculty Fellows, and Collaborate Ultra have been utilized in supporting faculty and students as well.
Research responds to COVID-19
To ensure the continuity of the scholarly activities at UAE University, the Office of the Associate Provost for Research (APR) has successfully transformed its activities and services to an electronic on-line system. The on-line services of the Office of APR include, among others, submission of new proposals, progress and final reports through the Grant Management System, Internal and external review of proposals, as well as submission of disclosure forms and review of patent applications. In addition, the Office of APR provides a prompt reply to all inquiries by e-mails.
On the other hand, the Office of the APR analyzes the scholarly outcomes of the university to ensure that the research productivity and quality are not affected by the current unprecedented circumstances related to COVID-19. In collaboration with the relevant authorities, a number of research projects have also been initiated to evaluate and mitigate the possible adverse impacts of COVID-19.
The COVID-19 crisis has also warranted scientists from various universities, including those at UAE University (UAEU) to rise to the challenge and rapidly mobilize their research expertise to address the needs related the pandemic. The University quickly established the COVID-19 Task Force, engaging researchers from different colleges and departments with the remit of contributing the global efforts against the virus. The aim of this multiple-disciplinary study is to address the biological, epidemiological, clinical, social and economical impact of COVID-19 outbreak. It is expected that the findings of this study will help, not only to better understand the virus and its associated disease, but also to predict future trends and patterns of spread, and how this outbreak is affecting the behaviour of people. Moreover, the findings could provide tangible and transferable outcomes which could help to minimize both economic and human loss in future outbreaks. The research team consists of established researchers with expertise in infectious diseases, biology, mathematics, computer sciences and engineering.
Social Responsibility Initiatives to Combat Covid-19
In view of the current corona situation and to help in the fight against Covid-19, the UAEU Science and Innovation Park (UAEU-SIP) has launched a number of social responsibility initiatives.
Personal Protective Equipment
To help address the shortage in personal protective equipment (PPE) due to a rising demand, the UAEU-SIP Makerspace responded to the call and is producing PPE 3D printed face shields for healthcare workers and have launched a campaign calling on other Fab Labs, Maker Spaces and Universities across the country to follow suit. The prototypes have already received the quality approvals from the medical professionals and the initiative has been supported by SEHA and National Emergency Crisis and Disasters Management Authority (NECMA). The UAEU-SIP are also liaising with WHO through the UN office in Abu Dhabi.
To create a national movement, in the second phase of the initiative, the UAEU-SIP will organize a national competition, calling on the community to submit design ideas to help address the future challenges that people might face in their daily lives after the social distancing period.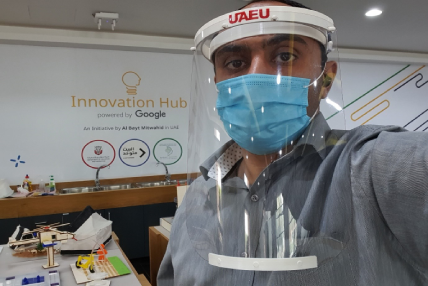 Covid-19 Awareness Contest
The UAEU Science and Innovation Park organized a "Coronavirus Awareness Contest", which gathered virtually 20 participants, students, faculty and staff, from different countries and with different backgrounds, to collaborate and co-create different media campaign platforms to raise awareness on the global pandemic and best practices to prevent the spread of COVID-19.
The contest started with an orientation session to provide participants with an overview on the contest program, goals and guidelines. Then, during multiple Design Thinking workshops offered by our partner learning institute "Niuversity", participants worked on identifying the solutions to address the challenges.
After an intensive week of ideation and prototyping, and with the help of their mentors, participants were able to deliver nine awareness products on COVID-19 including videos, posters, apps and a website. All the products are being published on the UAEU-SIP social media channels as well as our partners' channels.