The College of Law honors the winners of the Moot Court Competitions in its fifth session
Mon, 6 June 2022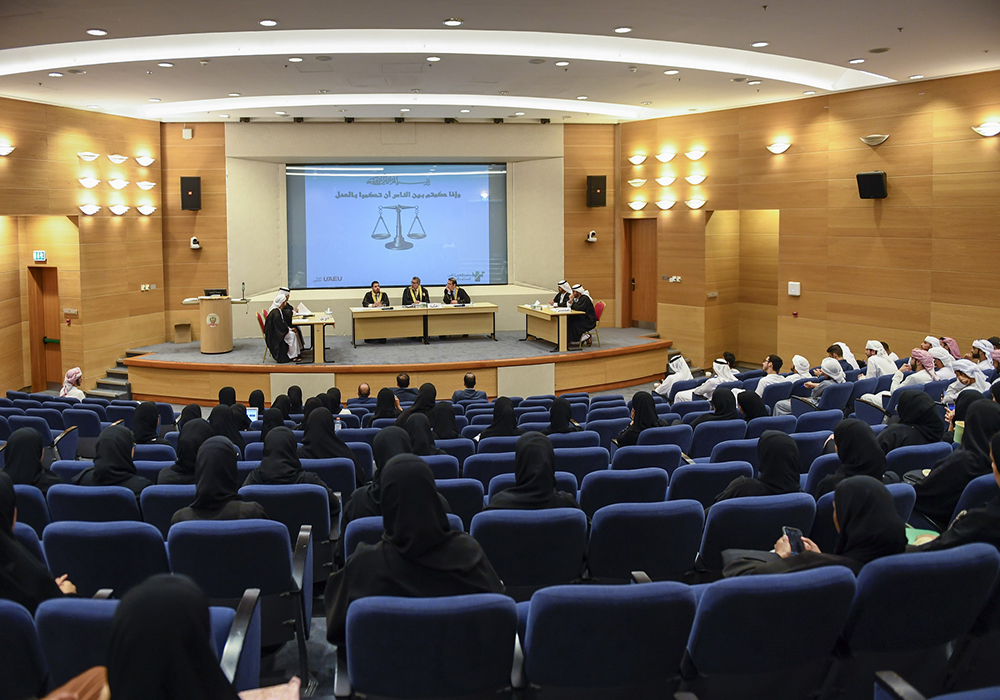 The College of Law at UAEU has honored the winners of the "Moot Court" competitions in its fifth session, in the presence of Prof. Muhammad Hassan, Dean of the college, faculty and students. It is a legal scientific competition for law students , aiming at enhancing students 'skills in drafting legal memos and judicial advocating, as well as the competition included a proposed case that students should search for solutions to investigate its components and present their legal arguments in it. Besides, the competition consists of two phases: the first is the preparation of written memos. Moreover, the second is the oral advocating. The students will form a team of 4 members (2 Prosecutor and 2 defendant).
For his part, Prof. Mohammed Hassan- Dean, College of Law – has honored the winners of the competition; Abdul Rahman Nasser Al-Kaabi, Nasser Youssef Al-Ahmed, Khalifa Saeed Al-Shibli, and Saif Khalifa Al-Kaabi won the competition for preparing the written memorandums. While the student Nasser Al-Shibli has rewarded for the "Best Student at advocating" which given to the student with the highest total of score out 200 points, based on oral advocating in the preliminary rounds, while students of the Private Law Department won the award for the best team in the Moot Court competition.
For his part, Prof. Ghazi Abu Orabi - member of the organizing committee of the competition explained, "This competition comes within the framework of enhancing practical skills for students in preparing legal memos and judicial advocating in the courts by offering a number of legal issues where students work to study and analyze the legal situation and write notes. As well as work on oral advocating before the court and will be evaluated on their 'legal performance. The event also included legal video clips of judicial facts within the Moot Court competition, and a competition for audiences in different legal fields and majors.
The competition rewards varied in numerous categories, including the award for the best-written memo, which has the highest total score out of 180 points, where three Jury Panel evaluated the memos with 60 points awarded by each evaluator.
Do you find this content helpful?
لايوجد محتوى عربي لهذه الصفحة
يوجد مشكلة في الصفحة التي تحاول الوصول إليها