Two UAEU students create a Drone to put out fires
Mon, 6 June 2022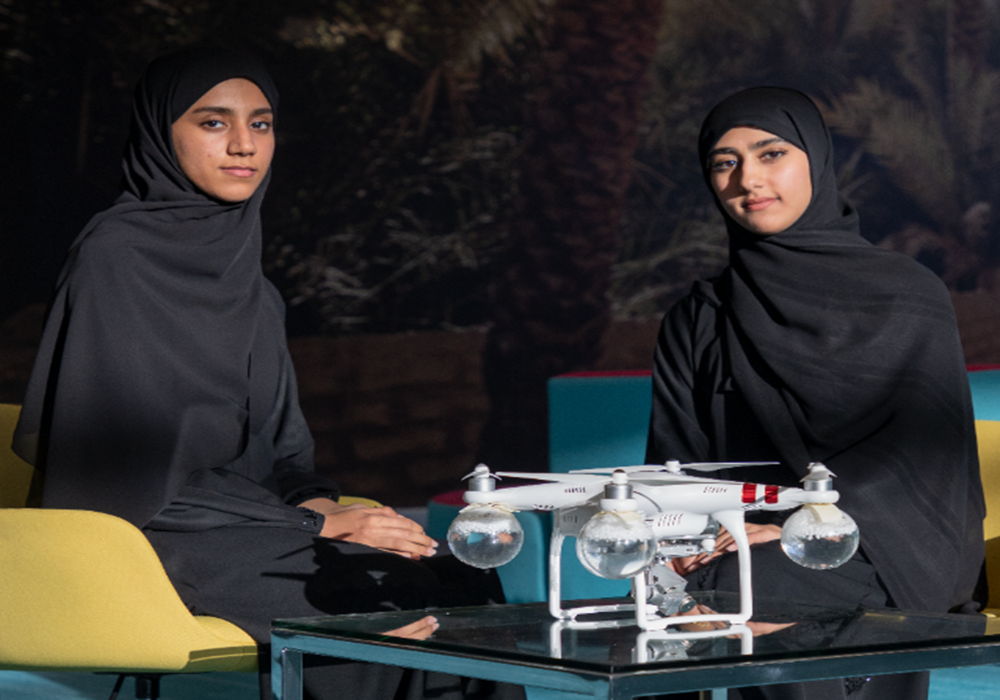 Within the initiative of "Innovators under 25"
Two UAEU students; Aisha Salem Al Kaabi and Wadima Al Shamsi, College of Business and Economics, have invented a "drone" that takes part in putting out fires in an innovative and effective way, as well as reduces the use of resources to put out fires, saves time and effort, and saves lives. The Drone carries four balls contain materials that help put out fires, flying over the site to monitor the source of fire, until the fire teams arrive and complete the mission.
For her part, Aisha Salem Al-Kaabi. said that "We believe that our innovation will make a significant change in the security and safety sector, because it will increase the effectiveness and efficiency in putting out fires, as the time taken by fire unit may be affected by some external factors such as traffic. So the drone can be sent to the fire site until the fire team arrives.
Besides, she pointed out that the civil defense could control and send the drone the fire site by the tracking system. In addition, the civil defense has an opportunity through a special camera to look at the size of the fire.
Regarding to the question of how can the drone reach the fire site and how to put out fires?
She pointed out that their innovative work is equipped to go into the place with a simplified and smart feature, as it is equipped with smart technically and chemically balls that differ in their chemical composition. While the civil defense unit controls the type and number that will send to the fire site according to the need knowing that one ball is able to put out area of ​​100 square meters, and when throwing the ball, it occurs a chemical reaction and works on cooling, decreasing oxygen content in the place of the fire. This material will remain in the atmosphere for thirty minutes to ensure that the fire does not start again, and thus the innovation has played its role in putting out fire until the civil defense arrives and make sure everything is fine.
For her part, the student, Wadima Al Shamsi, said that this innovation will enhance the effectiveness and efficiency of putting out fires by using innovative technology, including drone plane. She added, "We delighted to be in the initiative of innovators under the age of 25; it's really an interesting experiment and has a lot of challenge with support and motivation. It is as a journey of entrepreneurship where the theme is national agenda, the means is innovation and the result that we hope, God willing, to contribute to both developing our country and serving our society.
Do you find this content helpful?
لايوجد محتوى عربي لهذه الصفحة
يوجد مشكلة في الصفحة التي تحاول الوصول إليها