Zaki Nusseibeh pays tribute to staff and student volunteers at UAEU's GITEX Exhibition
Wed, 10 November 2021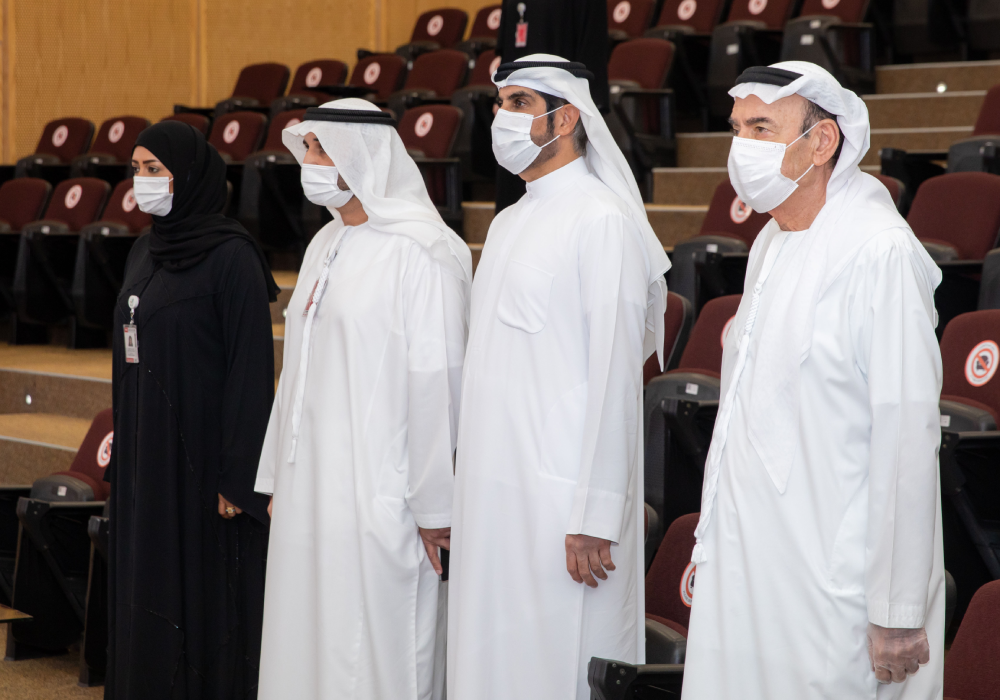 Today UAEU staff and students who organised the University's exhibition at GITEX Dubai met with H.E. Zaki Anwar Nusseibeh, Cultural Adviser to H.H. the President of the UAE and UAEU Chancellor to receive his appreciation.
The Chancellor said to the group, "I am proud to meet with you, an honourable group of University volunteers who have worked to promote our reputation at the GITEX Exhibition, the largest exhibition of technology in the Middle East, North Africa, and South Asia. You have gained the respect and admiration of everyone for your capability to represent and explain the scientific accomplishments of the University and demonstrate our excellence in research and application of technology.
The significance of the volunteer s efforts was made clear in His Excellency's remarks. He said, We work as one community to grow our collective identity and common goals in education, research, and service. Your distinguished contributions have highlighted the way that the University is stronger because it works together.
Offering his praise to the students, His Excellency said, We are proud of you because you represent the many generations of students from this University. They, like you, have had access to a pioneering academic institution that offers the expertise and facilities necessary for an education of the highest international standards. They, like you, have benefitted from programs of learning that meet the needs of employers and enable you to serve society. In this GITEX exhibition your projects have highlighted that the UAEU has a well-resourced digital infrastructure, has developed many smart services, and makes innovative advances with information technology. You have worked to strengthen our reputation for pioneering work in digitalization".
His Excellency affirmed that in paying tribute to the work of the UAEU volunteers in GITEX, "We affirm that the University is committed to developing creative talents and innovative mindsets of young people. It provides the academic support required to launch the professional careers of its graduates. The University provides leadership within the higher education community nationally, regionally, and internationally. We are therefore aligned with the UAE s ambitions for the next fifty years".
Do you find this content helpful?
لايوجد محتوى عربي لهذه الصفحة
يوجد مشكلة في الصفحة التي تحاول الوصول إليها