Ohood Al Kaabi, a UAE University student achieves championships in jiu-jitsu
Wed, 14 December 2022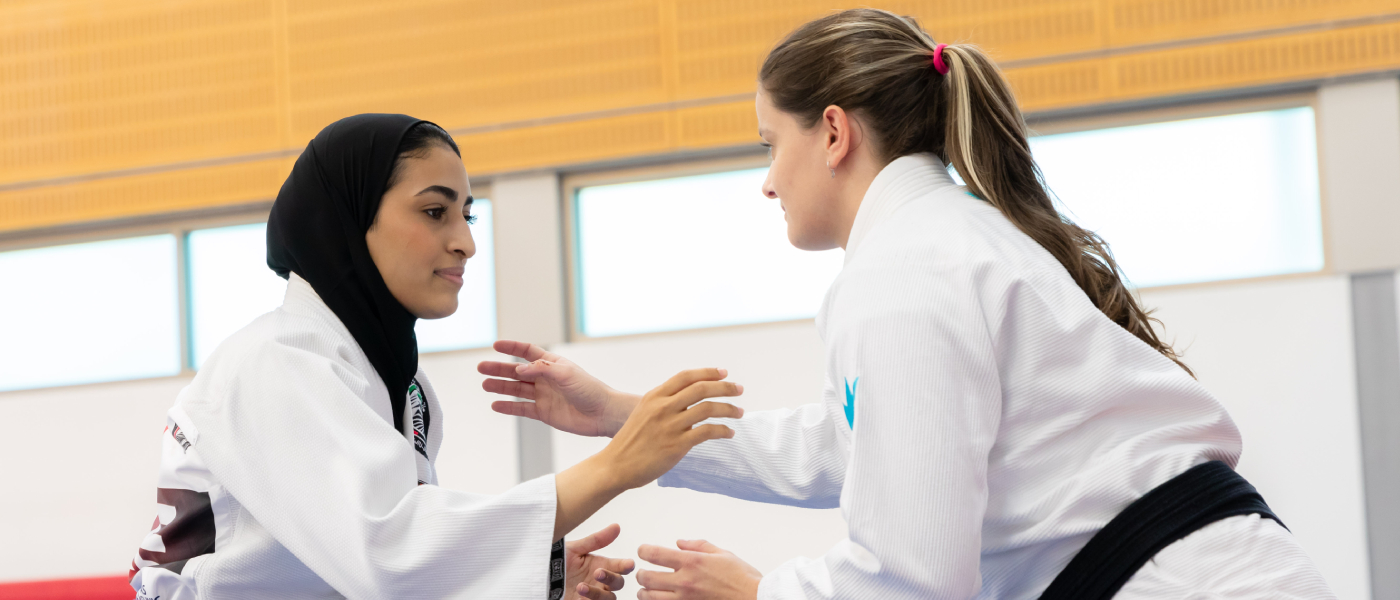 The UAE University has made many notable achievements in major international sports events, in addition, the UAE University is the first national university that offers all qualitative academic disciplines in accordance with the AI highest international academic standards and supports the country's future vision and strategies, which aim to anticipate the future of scientific research and improve intellectual and creative skills and competencies.
Moreover, the UAE University discovers, encourages, and develops student talents inside and outside the university to achieve the aspirations of distinguished students in various fields. The university supported the student talents in various fields, which resulted in achieving and highlighting the best student talents. Ohood Al Kaabi is one of the most prominent student talents that made a great success in the sport of jiu-jitsu, and studied aviation and space engineering, and aspired to keep her victory of gold medals and world championships.
She proudly narrated her success story, "My dream began in 2014, in the sixth grade. My teacher introduced me to the jiu jitsu in Al-Shim School, and I started at a very young age, and this made me stronger and progressed step by step, that sport that at that time was male-dominated especially in light of our social conditions. However, I started with the encouragement of the family, I am one of a family consisting of ten children 4 boys and 6 girls, and my father is the first supporter, my mother also encouraged me, and my brothers and sisters also are supported a lot.
I started training with my Brazilian coach at school, and then I joined Al Ain Sports Club, which opened the doors for me to achieve my ambition. With the encouragement of my family, I started the journey, fulfilling the dream, and moving on the path to success.
Thanks to God Almighty, and then my family, I joined the UAE jiu-jitsu team, and the great challenge began, and the competitions began to attract me more and more. With honesty and truth, through my suffering, the greatest support was from our wise leadership, which paid great attention to young men and women in that sport, and formed a women's team who achieved amazing results.
She said, "I continued to build my dream successively with my years of study at the UAE University, and during the Corona pandemic, I joined a closed camp under the auspices of the UAE national team to prepare for the Asian Championship that was held in Abu Dhabi, as it was one of the most difficult stages in my life due to my distance from family and friends, but I, with God's grace, and continuous training, I was able to get second place in this tournament."
She added, "My dreams did not stop at this point, especially after the encouragement and support of His Highness Sheikh / Mohammed bin Zayed Al Nahyan, the President of the UAE - may God protect him - who generously gave us all aspects of support and care, and I will not forget the words that His Highness Khalid bin Zayed Al Nahyan said to us /, during his visit to us during training in the camp "No surrender", so I took this word as a shield to face any difficulties and as a basis for determination for more successes, so I achieved many championships:
Second place 2020 championship in Abu Dhabi Sports Achievement Award
Grand Slam tournament 2020
First place in Los Angeles Championship 2020
AJP Championship 2021
A number of local and continental championships
She finally said that "My dream is still growing until I become a certified national coach, to represent the UAE in jiu-jitsu tournaments and local and international sports events, and achieve honorable results. I felt proud when I was listening to the UAE national anthem "Long Live My Country...Long Live the Union of Our Emirates" while I was on the podiums, just as our leaders taught us to be at the forefront and to continue working and redouble our efforts. We express our sincere thanks and gratitude to Mubadala leadership support, care and interest for our Emirati sports teams.
Do you find this content helpful?
لايوجد محتوى عربي لهذه الصفحة
يوجد مشكلة في الصفحة التي تحاول الوصول إليها