UAEU Masters student is at the forefront of groundbreaking aviation technology
Mon, 6 June 2022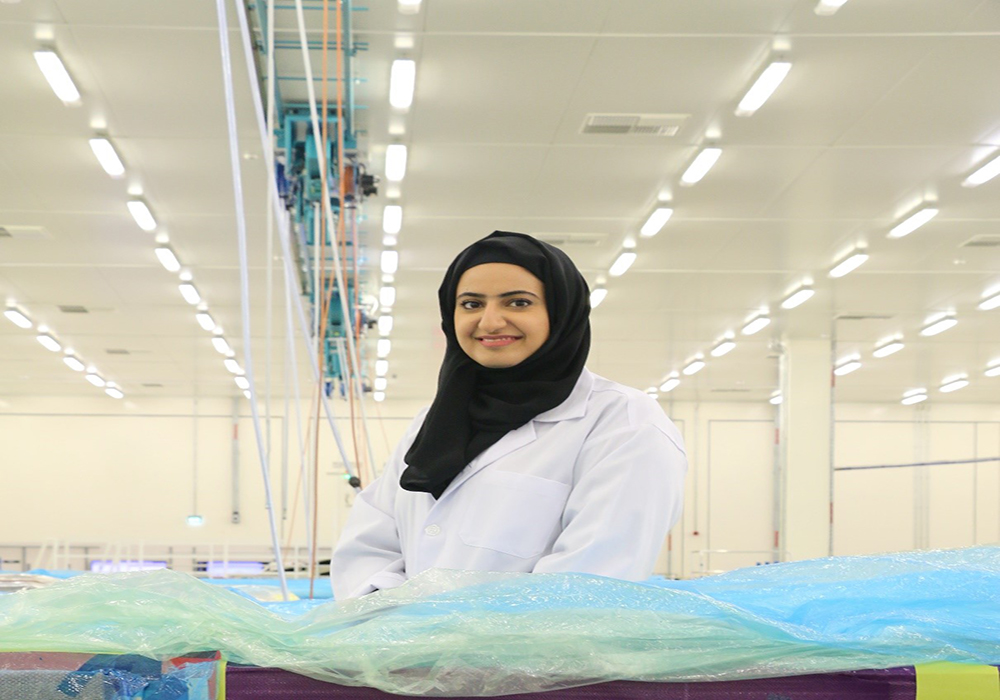 A UAEU graduate who has returned to the university for the next stage of her academic journey is at the cutting-edge of a project that could open up new technological horizons for the aviation industry.
Maryam Al-Kuwaiti's studies at UAEU – which first saw her become a Bachelor of Science in Mechanical Engineering and more recently has seen her return to do a Master's Degree – have led her into the fast-developing world of 3D printing through her role as a manufacturing engineer with Al Ain-based Strata Manufacturing PJSC, which manufactures aerostructures components to the world's leading aircraft manufacturers.
The 25-year-old from Al Ain has become one of the first Emiratis involved in a pioneering Strata project which developed the region's first 3D-printed aircraft interior parts –which is considered to be a game-changer for the region's additive manufacturing sector.
And once her daily shift at Strata's manufacturing plant at Nibras Al Ain Aerospace – which partners with leading aircraft manufacturers such as Airbus and Boeing – ends, Maryam is immediately on the way to UAEU to work on her thesis as she pursues a two-year Master's degree in Mechanical Engineering – another step on her path to contribute in making an even greater mark on Abu Dhabi's thriving aerospace industry.
Being involved in the 3D-printing project that Strata has undertook with Siemens and Etihad Airways represents the high point of Maryam's career to date – a career she set her sights on because she saw it as "exciting and diverse". She chose Mechanical Engineering for her BSc because of its "hands-on nature" and, having graduated, identified the precise area she wanted to work on through a series of internships abroad.
Having interned at the University of Oxford and California-based semiconductor company GlobalFoundries, she then interned at Airbus' base in Toulouse, France, when she realized her next step.
"It is a huge and very challenging industry, one which the UAE envisions very big things for. I realized I wanted to be a factor in its growth."
Maryam applied to join Strata before graduating from UAEU in 2014.
"Every day, you walk down the production line and face a different challenge," said Maryam. "That's what I like."
The pilot stage of the 3D-printing project she is involved in is developing aviation parts for the cabin interiors of Etihad Airways' fleet. Ultimately, the aim is for it to be expanded into a three-year 'joint road map' by Strata and Siemens, defining the way forward for the industrialization of 3D printing and the production of complex airline parts for customers throughout the region, while also providing training opportunities for UAE citizens.
"With this project, we are looking to show the capabilities that we have in the UAE, and demonstrate that we are able to do these things in such a short time," explained Maryam, whose role focuses on manufacturing parts through a layered process intended to reduce costs and also allow engineers more freedom to design and create components and optimize their performance.
As part of her Master's degree, she has published an academic paper on composite materials, and hopes her experience, success, and story can encourage more Emirati females to consider internships in the aerospace manufacturing field.
"I would encourage Emirati females to apply for jobs in this industry because the world is moving toward a Fourth Industrial Revolution – or Industry 4.0 – and this is leading to breakthroughs in advanced manufacturing and creating 'smart factories', where people and machines work together seamlessly.
"The UAE plans to be a big player in Industry 4.0, so there is, and will be, a need for engineers and people with the necessary vocational skills to play a role."
Do you find this content helpful?
لايوجد محتوى عربي لهذه الصفحة
يوجد مشكلة في الصفحة التي تحاول الوصول إليها