Dr. Iltaf Shah
Tue, 3 July 2018
Assistant Professor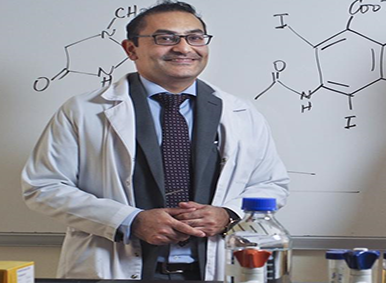 In July 2015 Iltaf Shah became an Assistant Professor of the College of Science at the United Arab Emirates University. His research focuses on the development of chemical tools to better understand the role of vitamins and metabolites in the human body. He is particularly interested in vitamin D targets and narrow-spectrum therapeutics. As part of this research, he recently developed an innovative vitamin D test to measure vitamin D deficiency in the Emirati population. In collaboration with Tawam Hospital Medical School, Dr. Shah is also seeking to commercialize this test by implementing it in UAE hospitals. He has also worked with Kingston University to develop a new test that detects kidney disease at an early stage in humans.
His other research interest is the bioanalysis of drugs and steroids in human and animal hair by using enzyme linked immune-sorbent assays, liquid chromatography and mass spectrometry instruments. He has recently developed a test used for doping control in camel racing. This is a joint effort between Dr David Cowan's laboratory at Kings College London and the Camel Forensic Laboratory in Al Ain. After significant news coverage in the UAE, Iltaf has been asked to record an interview with ITV news in London to explain the science behind these innovations in camel racing drug tests.
Iltaf completed a B.Sc. at King Edward's College and then both an M.Sc and Ph.D with Kingston University, England. He has worked as postdoctoral fellow with Professor Naughton at Kingston and then followed this with a lectureship at the same University. He then moved to UAE to take up a post as an Assistant Professor of Biochemistry at UAEU. His graduate, Ph.D and postdoctoral work was mainly on the bioanalytical aspects of small molecules in human bodily fluids. He has also investigated the use of specialised bioanalytical techniques for large molecules proteins and peptides.
He is a member of the Royal Society of Chemistry. He has collaborated on several projects with St Thomas's Hospital, Brighton, Sussex Medical School, Sheffield University, St George's University, Aristotle University and the World Anti-Doping Agency (WADA) as well as with many private companies. Dr. Shah has received a number of awards for teaching and research, and is the author of more than 50 research articles.
He hold a teaching qualification and is a fellow of HEA. He also has management qualifications from the Chartered Management Institute where he remains a member.
An avid sports fan Iltaf follows Manchester United and enjoys cricket. Other hobbies include singing when he is not relaxing in the company of his wife and kids.
Do you find this content helpful?
لايوجد محتوى عربي لهذه الصفحة
يوجد مشكلة في الصفحة التي تحاول الوصول إليها