Dr. Georgios Nassis
Tue, 30 August 2022
Associate Professor in Exercise Physiology, PhD, MBA. Following a Diploma and a MSc in Sports Science (Exercise Physiology) at Loughborough University, UK, Dr. George completed his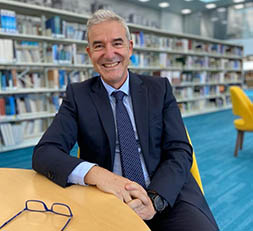 PhD studying aspects of cardiovascular and thermoregulatory systems regulation during exercise. After his graduation, he was appointed as a lecturer at the University of Athens and adjunct academic staff at Harokopeio University, Greece, for 11 years. Since 2019, he is an adjunct professor at University of Southern Denmark.
He has also served as guest professor at Shanghai Sport University. His research interests include cardiovascular and metabolic responses during exercise, exercise and health, football science with emphasis on injury prevention and performance optimization. He is a Fellow of the European College of Sport Science and a member of the American College of Sports Medicine. Dr. George is being serving as associate editor for British Journal of Sports Medicine (impact factor 12.68, ranked 1st in Sports Science) and as editorial board member for Journal of Sport and Health Science (impact factor 5.20, ranked 5th) and Science & Medicine in Football. Dr. George has published >85 papers & 2 book chapters with >6800 citations & h index 35 (Google scholar). Ten (10) publications are in top 1% journals.
Do you find this content helpful?
لايوجد محتوى عربي لهذه الصفحة
يوجد مشكلة في الصفحة التي تحاول الوصول إليها