GOAL 2: Zero Hunger
To reduce food wastage, UAEU requires all residential units and campus restaurants to actively manage and quantify their food waste. To support the objectives set forth by the UAE Vision 2021 to recycle and reuse 75% of waste currently destined for landfill of which a major element is food waste. Khadamat initiated a project to divert food waste from landfills by installing a Food waste digester Unit Female Students Residential Dining 's waste room.
The Food Waste Digester is an Onsite food waste recycling machine that uses an aerobic composting process to convert food waste into effluent that safely discharges into the sanitary sewer system. The machine significantly accelerates the breakdown of food waste by adding proprietary Microorganism Solution and Bio Chips to the process of creating the ideal environment for rapid decomposition. As a result, Food waste is liquified to a finite level as grey water and exits the machine into the sewer system.
Within the premises of UAEU, there are designated kitchen areas where staff can prepare and enjoy a variety of beverages such as coffee, tea, and juice, as well as other desired items. These kitchens are also equipped with snacks, including biscuits and a selection of juices, providing a convenient space for individuals to refresh and energize themselves.
On the University campus, you can choose to enjoy a cup of coffee or have lunch in a diverse selection of restaurants, cafeterias, pizzerias, cafés, and other dining facilities. There is also a food court located in both the male and female campuses, which offer a wide selection of healthy and nutritious foods, including Oriental, Middle Eastern, Asian, and European menus. The food court also provides menus for campus students and people who are vegan or vegetarian communities. Regular health inspections are carried out at all outlets to ensure that food safety standards are always met.
Food Services are the complementary part of the Residential Life Section, where their tasks are to supervise the provision of meals to our students in the Student Housings in the best manner within the appropriate standards for the present age group in a healthy and safe way within the country's regulatory entities health requirements. Beginning from receiving the raw food materials and storing it according to the approved health requirements, then processing and preparing it for cooking and serving it to the students and finally disposal of the surplus immediately after the end of the meal in preparation for the next meal, under the supervision of the nutrition specialists who are available all day in every housing unit restaurant to ensure that students' needs are met per the food services that are provided in the student housing restaurants.
The College of Agriculture and Veterinary Medicine,
UAEU is pioneering the efforts with regards to food security, sustainability, and animal/aquaculture systems through its three unique constituent research and experimental stations at Falaj Hazza, Al Foah & Nahshella units. The three experimental and research stations provides sustainable agriculture and aquaculture knowledge, skills or technology to local farmers and food producers through different workshops and training programs.
The Falaj Hazza Aquaponics station R&D facilities focus on the development of integrated aquaponics system: Fish-hydroponics (organic vegetables). Facilities include, four large greenhouses, each contains two fish production tanks and fully automated closed systems. The total fish stocking in each tank is above 700 fish (1400 for each greenhouse). The system includes six outdoor tanks for stocking and presale storage with a capacity of more 2000 large fish. The station focuses on research, training and extension, economic evaluation and model for adoption by local farmers.






Al Foah unit: Al Foah farm is comprised of 47 hectares of land and a range of research facilities for scientists and students from various specializations to develop and test innovative strategies that support food security in the region and sustainable plant and animal production systems. The research farm also supports educational activities and allows UAEU students to complement their theoretical knowledge with practical training and experiences in the field, and actively engages with the community and supports agricultural education outside of the university. A modern fully automated irrigation system installed in the all fields that will facilitate the implementation of wide research on crop, vegetables, fruit trees and organic farming. The farm includes modern irrigation systems for estimation of crop water demands, in addition to lots allocated for treated water use.






Nahshella station: Nahshala research farm consists of two farms with a total area of 20 hectares. The farms characterized by high salinity of soil and groundwater; both exceed 20,000 ppm. The R & D plan focuses on identifying sustainable and economical models for the use of marginal lands and water resources abundant in the UAE.
The CAVM is serving the farming community through laboratory testing facilities via its constituent labs and supporting the farmers through cutting edge research focused on food security and sustainable practices. The animal nutrition laboratory of the department of integrative agriculture provides farmers support through analytical services. Besides this, other laboratories and units are also supporting the local farmers with their expertise. The pilot plant in the food science department will soon be engaging with industry on a commercial scale operation. The CAVM faculty research from food science, integrative agriculture and veterinary medicine department focuses on advanced food systems and sustainable farm production.


Agriculture Academy: A delegation of agricultural academy students visited the CAVM labs. This activity aims to introduce the college programs for Agriculture academy students as part of the student recruitment plan.
Abudhabi Farmers club: CAVM has actively engaged with Abudhabi Farmers club through field visits and training/exchange programs. Our students participated in several activities in connection to open-field vegetable, sheep, poultry, and honeybee production. As well the group visited the greenhouses and aquaculture unit. This field visit was a part of the collaboration between the College of Agriculture and Veterinary Medicine and the newly established Abu Dhabi Farmers Club.
Organizing workshops for ADAFSA farmers: The CAVM experts are organizing various workshops in the field of farm management and agricultural production for the ADAFSA farmers scheduled to be conducted in the later part of 2023.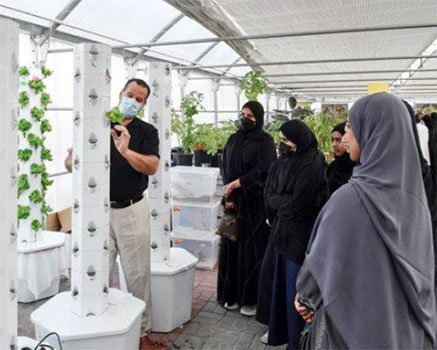 The University has been always a supporter of local sustainable products. This we also showcase during our events and activities as we have provided giveaways and gifts from the local market which were also sustainable to support the local sustainable practices and building community awareness. Any event or activity organized by CAVM is planned and executed to support local production systems from sustainable sources. Some examples include the recent event that we have participated in the Abu Dhabi hunting and equestrian exhibition in ADNEC center Abu Dhabi 2023, where we provided gifts to the visitors with bamboo shoots and plants procured from the local farmers market.
Do you find this content helpful?
لايوجد محتوى عربي لهذه الصفحة
يوجد مشكلة في الصفحة التي تحاول الوصول إليها