About CMHS
Overview
The College of Medicine and Health Sciences (CMHS) of the United Arab Emirates University is the first and highest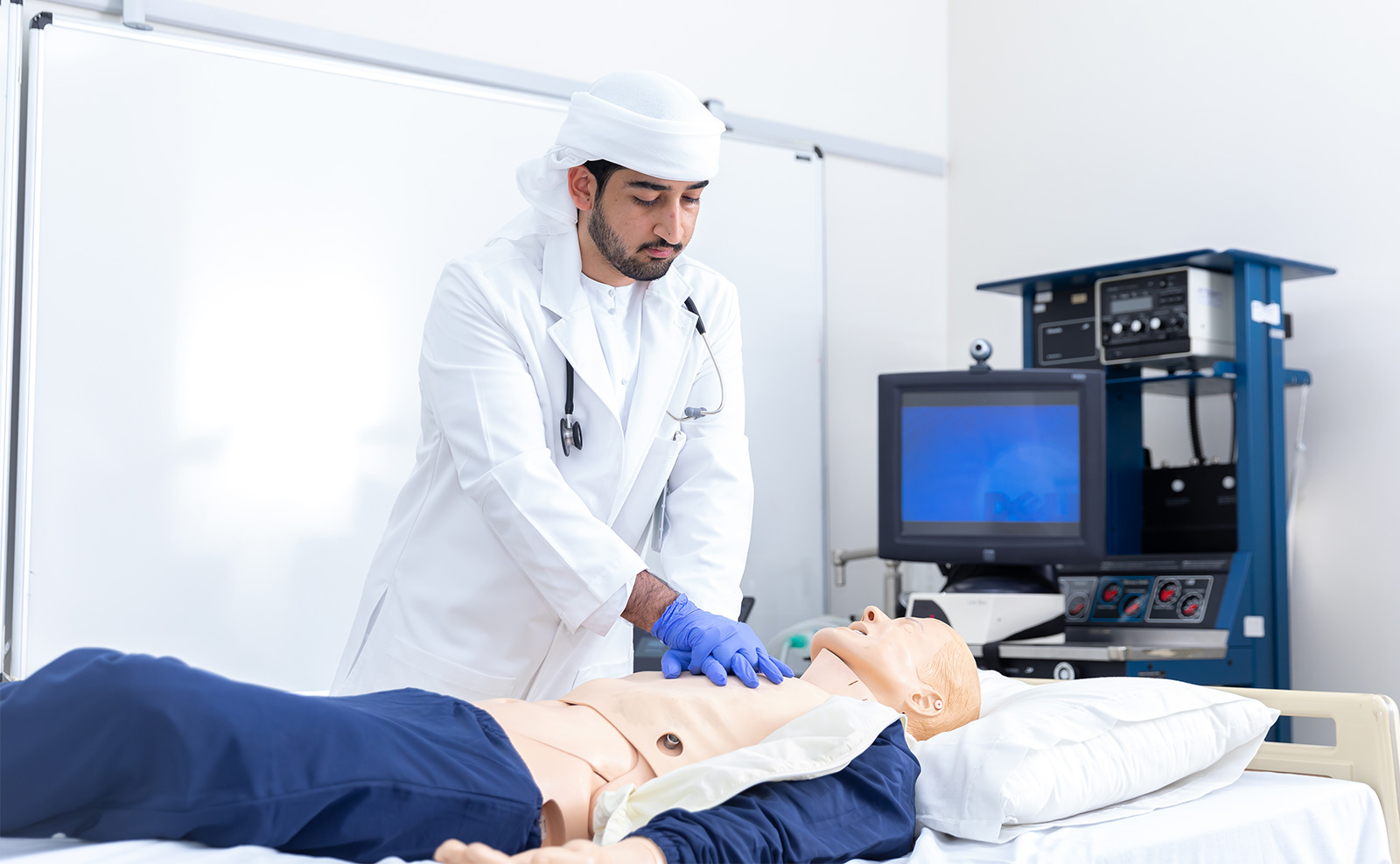 ranked medical school in the United Arab Emirates. It was first opened in 1984 by His Excellency Sheikh Nahayan Mubarak Al Nahayan, Minister of Higher Education & Scientific Research, and Supreme Chancellor of the University. CMHS evolved rapidly from its embryonic beginnings. In 1986 the first batch was admitted and graduated in 1993.
The College is internationally recognized and ranked highly, especially amongst similar institutions in the Middle East. It is accredited by the General Medical Council (GMC), listed and accepted by the World Health Organization (WHO) and the Educational Commission for Foreign Medical Graduates, and recognized by American and Canadian Universities and health institutions. CMHS strives to produce Emirati doctors educated to the highest international standards. It organizes regular continuing professional development and has an impressive record in establishing productive research programs.
Latest rankings (2021)
UAEU ranked in the world's top 175 for clinical medicine and health

More than 3.5 times the field-weighted citation impact in clinical medicine and health

500 publications in top 25% journals in clinical medicine and health

22 publications in the top 1% Scopus journals by Cite Score in clinical medicine and health

Top 40 New Medical Schools under 50

CMHS Top 200 Medical School in the world
Dean's Message
Welcome to the College of Medicine and Health Sciences (CMHS)
We have established priorities in four distinct areas: (1) undergraduate education that enables our graduates to continue training in top international centers, (2) continuing education and professional development for all health care professionals consistent with the need for lifelong learning to serve patients and society, (3) research and the training of new researchers, and (4) the delivery and enhancement of medical and services to the community.
Our teaching programs include an internationally recognized undergraduate medical degree (MBBS), which has now been converted to a 4-year graduate entry MD program. In addition, the College offers several postgraduate degrees including a Master of Medical Science, Master of Public Health (MPH), Doctor of Pharmacy, and PhDs in several subject areas. In conjunction with affiliated teaching hospitals, CMHS also provides higher professional training for physicians at certificate, diploma, clinical specialty training and membership/fellowship levels in major clinical disciplines. CMHS has formed an Emirates Health Service to assist in the development of clinical skills and the maintenance of competency for healthcare professionals. The service has provisions and support for licensing exams, continuing medical education (CME) and continuing professional development (CPD) events, and hospital management and clinical activities.
Research projects and published output are strongly encouraged in our efforts to raise the international research standing of our College. Multidisciplinary research has developed within departments and Colleges at United Arab Emirates University (UAEU); between colleagues nationally and in the Gulf region, and internationally with academic counterparts in North America, Europe and Australasia. Research areas at CMHS have focused on issues relevant to UAE society, such as diabetes and cardiovascular disease, road traffic injury and trauma, genetic disorders, infectious diseases and immunology, mental health and neuroscience.
To encourage collaboration, the University has established the Zayed Center for Health Sciences with the generous support of the Zayed Foundation. The center is housed and managed within the premises of CMHS. It has initiated research in global health and population health, with an emphasis on an increasingly mobile population in the region, and health issues of the UAE population. At the end of 2013, the WHO designated the Institute of Public Health of the College as a WHO Collaborating Center for Occupational Health. It is the first center for the discipline to be accorded this designation in the Middle East. By this designation it joins the Department of Nutrition as the second collaborating center based at UAEU, and one of four WHO collaborating centers in the United Arab Emirates.
We hope that you will visit us to learn more about CMHS and the opportunities we offer for education and training, research, service, and collaboration.
Prof. Ahmed Alsuwaidi
Acting Dean of College of Medicine and Health Sciences
Vision, Mission and Goals
Vision
Sustain a world-leading International Academic Health Sciences Institution delivering quality in undergraduate and postgraduate education and research, innovation and community partnerships.
Mission
Improve continuously the well-being and healthcare of the UAE and Global Population by innovative medical and health sciences education and research and best standards in health services.
Strategic Goals
Student Journey from Outreach programs (into schools/colleges) to onboarding, student experience, subsequent alumni relationships and post grad CME and training
Student curriculum from adaptive techniques, balanced curriculum portfolios (i.e. PBL/TBL/Systematic/Self Directed Learning) to state-of-the-art learning including multimedia and simulated learning and post grad training and CME
Research, innovation and commercial enterprise programs including intellectual property, and spin out companies.
Faculty and Staff career pathway from early, mid and late phases including, recruitment, retention, reward and recognition/promotion pathways.
External Partnerships including Government, Academia, Industry, Health/clinical Affairs and Charity sectors, societal impacts and national/international policy change
Governance and HR processes to ensure oversight, strategic leadership and engagement across and within Department and Centers/Faculties.
Administration and financial management to ensure appropriate and efficient use of funds as well as strategic income growth in sustainable areas.
Accreditation
Recognized internationally as the leading national Medical School in the UAE.
Designated as an overseas examination center for Occupational Medicine by the Faculty of Occupational Medicine, Royal College of Physicians (Ireland).
Recognized by the General Medical Council (UK).
Listed and accepted by the World Health Organization (WHO).
Listed and accepted by the Educational Commission for Foreign Medical Graduates.
Recognized by American and Canadian Universities and Health Institutions.
Facilities
The College of Medicine and Health Sciences provides its students and faculty with world-class facilities that include:
Research laboratories at the CMHS are provided with the necessary infrastructure and resources including state-of-the-art equipment and technologies in addition to running a store for general consumables, chemical reagents and kits. Research in our laboratories is also supported by developing and maintaining central research facilities such as the Imaging Unit, Analytical and a Molecular Unit, a Cellular Biology facility in addition to the Animal Vivarium Unit.
The research animal facility at the CMHS is probably one of it s kind in the UAE. The aim of the facility is to support a proper, safe, and humane research effort by providing controlled environments for the care and maintenance of experimental animals. more..
The Anatomy Dissecting Laboratory is a key teaching facility for the training of medical students in Gross Anatomy. The Dissecting Room caters for undergraduate as well as postgraduate medical students. It is opened to students after regular classes.
The Dissecting laboratory has three large rooms and many other storage areas. It has several stainless steel tables for the display of whole cadavers or parts of the body. It also has many cabinets where original bones, plastic models and prosections of joints, upper and lower limbs, thorax, abdomen, pelvis and perineum are held. The Dissecting Laboratory also houses a small collection of different stages of the embryonic development. In addition, it contains sagittal sections of the whole body that are neatly displayed in Perspex glass frames. The skeleton and its parts are also available for student use. X-ray films and MRI scans of different parts of the body with X-ray viewers, books and videos are also available to aid student learning of the use of anatomy in clinical medicine. The Dissecting Laboratory contains an excellent collection of coronal, sagittal and frontal sections of the human brain. The Anatomy Dissecting Laboratory is equipped with computers, TV monitors and projectors to facilitate computer-based and e-learning.
These are Multidisciplinary Labs where the undergraduate practicals are conducted. Students from first to fourth year in the College of Medicine & Health Sciences utilize this facility. The labs are provided with modern de-fuming chambers, gas detectors and a high quality gas and compressed air supply system. They are spacious enough to accommodate around thirty students at a time. Biochemistry, Physiology and Pharmacology departments conduct practicals regularly using these Labs.
The facility is provided with high quality lab infrastructure. All the labs are under the computer network, with Internet surfing facility. Lab equipment are highly modernized which enables the students to adjust to any sophisticated lab elsewhere. A number of computer-based practicals have been introduced which enable the students to keep pace with the fast growing involvement of computers in education. Animal usage as subjects has been noticeably reduced. Instead highly protected and safe gadgets are being directly used on human subjects. The labs are supplied with modern recording and data collection systems.
These are located on the second floor of the block-D. Two of these labs have low benches suitable for microscopy work. The third is a tall bench lab. Anatomy, Pathology and Microbiology departments utilize these labs. Apart from the labs, the area is provided with storage rooms, chemical stores and a pathology museum and office space.
The microscopy labs are provided with an adequate number of good quality microscopes. The students have the advantage of handling microscopes individually. The microscopy labs are also equipped with a high resolution CCTV system along with a computer aided image analysis system.
The College has 3 well equipped computer labs. Each lab has 31 networked computers including an instructor computer. The instructor computers are connected to a projector/smartboard. Computer based courses including statistics, computer based laboratory teaching, online library search tools etc. are engaged in these labs.
The Center is situated on the ground floor of the College of Medicine and Health Sciences building. This 20,000 sq. ft. state-of-the-art Medical Simulation Center provides opportunities for training in clinical skills, communication skills and procedural skills for students, residents and practicing doctors, in a safe learning environment without any risk to the patient. The center has many high-fidelity and low-fidelity simulators, task trainers and standardized patient programs. A team of multi- disciplinary faculty runs clinical skills sessions and courses in the center. The center also hosts multi-disciplinary clinical assessments (OSCE) of the College of Medicine & Health Sciences and the overseas Royal College examinations and Arab Board examinations. more..
A world standard assessment center as per international guidelines is available in the College for conducting assessments online. The center has a seating capacity of 180 candidates at a time. The center has its own server room, reception, waiting area, locker facilities and washroom facilities. The center is divided into two blocks to facilitate gender segregation as well. The center is setup as per international standards and is an authorized person test center. Other than the in-house CMHS student examinations, many external examination including the licensing examination for medical professionals are held here.
The College of Medicine & Health Sciences has one big multipurpose auditorium and two theatres which can be utilized for educational activity for internal as well as external users. The Khalifa Auditorium accessible from the main entrance to the building can host 660 participants at a time. The auditorium is equipped with stage lighting, amplified audio and a big screen projector. The two theatres Yanah Theatre and Fatima Theatre are suited for small groups. They can host 120 participants each. The theatres have desks along with seats and microphones and are ideal for seminars/presentations.
The National Medical Library at the College of Medicine and Health Sciences (CMHS), is the first medical library in the United Arab Emirates .The primary mission of the library is to provide medical students and all health professionals in the community with current information and medical resources and to support teaching and research at the College. Find out about the National Medical Library s collections, services and facilities here.
We are a multidisciplinary laboratory committed with the research and development of technology based on Data Science for healthcare. In our lab, there are five core areas of Data Science that we apply, develop, and improve for healthcare: Artificial Intelligence, Big Data, Machine Learning, Internet of Things (IoT), and Blockchain. more..
The UAEU Genomics Laboratory has been established as a center of excellence for research to ultimately reduce the impact of genetic disease on the UAE community. This new laboratory contains state of the art equipment and technologies for studying Genomics, Metabolomics and Bioinformatics.
The Genomics laboratory is equipped with Next Generation Sequencing (NGS) platforms such as NovaSeq 6000 sequencing system, MiSeq Sequencing System in addition to Biomek i7 Liquid Handling system, Covaris LE220-plus- Focused Ultrasonicator, Automated DNA isolation system (QiACube and QiACube HT), RT-PCR- Machine (QuantStudio 7 Flex), PCR Robotic workstation, several PCR machines and other ancillary and small equipment.
Bioinformatics Platforms for ultra-rapid sequencing analysis are installed with full operational support from the CMHS and central IT team. An in-house information management system is being developed to track and mange samples that can streamline the workflow. more..
Partners
These are some of the organizations that CMHS has formed partnership agreements with:
Tawam Hospital
Al Ain Hospital
Health Authority of Abu Dhabi (HAAD)
Dubai Health Authority (DHA)
Dubai Health Care City (DHCC)
World Health Organization (WHO)
Faculty of Occupational Medicine, Royal College of Physicians (Ireland)
Community Service
Giving Back to the Community
The College of Medicine and Health Sciences (CMHS) is internationally recognized and has a high global ranking. It has been providing community services for the UAE since its establishment as a faculty in 1986. The range of community services include activities by the staff of our 15 basic science and clinical departments, and our undergraduate and postgraduate students. The services offered reflect the expertise of the academic staff, and the interests of the students and faculty.
Emirates Health Services (EHS)
In June 2010, the Emirates Health Services (EHS) was established under the umbrella of the College of Medicine & Health Sciences (CMHS). The overall objective of the EHS is to facilitate clinical activity and provision of clinical teaching, assessment, advice, management and patient care. Potential recipients of the services include hospitals and healthcare facilities, health ministries, health care and other industries, national and international medical and health organizations, and members of the UAE community. more details
Zayed Bin Sultan Center for Health Sciences
The United Arab Emirates University, with the generous support of the Zayed Foundation, has established the Zayed Bin Sultan Center for Health Sciences (ZCHS). This is the Colleges flagship research center for population health. The center was established to support and contribute to the UAEU's mission of becoming a world-class center for applied research, with national and international outreach and innovation whilst preserving the unique values of the UAE. The center will build an international reputation and intends to forge formal links with other universities and institutions through equitable memoranda of understanding.
Membership of Expert Advisory Committees
CMHS provide academic staff members to chair or serve as members on expert committees for government departments, industry, and other organizations and agencies in the UAE. Examples include the National Immunization Technical Advisory Group (Ministry of Health), the Blood Transfusion committee, the Dubai High Court, Abu Dhabi High Court, and the Abu Dhabi Judicial Department (for medico-legal cases). Academic staff are also available to participate as external examiners, external assessors for promotion, and in their area of expertise in regional and international expert committees.
Student Involvement in Community Services
Our medical students work in teams, especially during their clinical postings to provide community services such as health screenings to the general public and provide advice on the prevention of diseases prevalent in the UAE community such as:
Cardiovascular disease, including obesity and hypertension
Diabetes
Diseases due to lifestyle factors: tobacco consumption, unhealthy diet
Injury from unsafe driving habits, storage of medications in homes
Our students are also prepared to work with healthcare agencies regarding initiatives in disease prevention in the community.
Access to National Medical Library
The national medical library is a facility maintained by the College. It houses a range of reference resources including textbooks, journals, and electronic databases. These resources are available for use by members of the community.
Consultation Services
The College of Medicine & Health Sciences is keen to develop consultation and community services in special subject areas reflecting the interests of the staff. These subject areas include, but are not confined to:
Diabetes
Cardiovascular Disease
Genetics
Immunology
Infection
Neuroscience
Oncology
Trauma
Public Health
Occupational Health (We are now a designated WHO Collaborating Centre for this field, the only one in the Middle East)
Do you find this content helpful?
لايوجد محتوى عربي لهذه الصفحة
يوجد مشكلة في الصفحة التي تحاول الوصول إليها