The United Arab Emirates University research team developed a novel technique for processing and recovering of bioactive molecules from date seeds in a more non-toxic and eco-friendly method
(Phoenix dactylifera L.) processing: Modeling, optimization and phenolic characterization
Jennifer Airouyuwa (PhD student) and Sajid Maqsood (Professor in Food Science).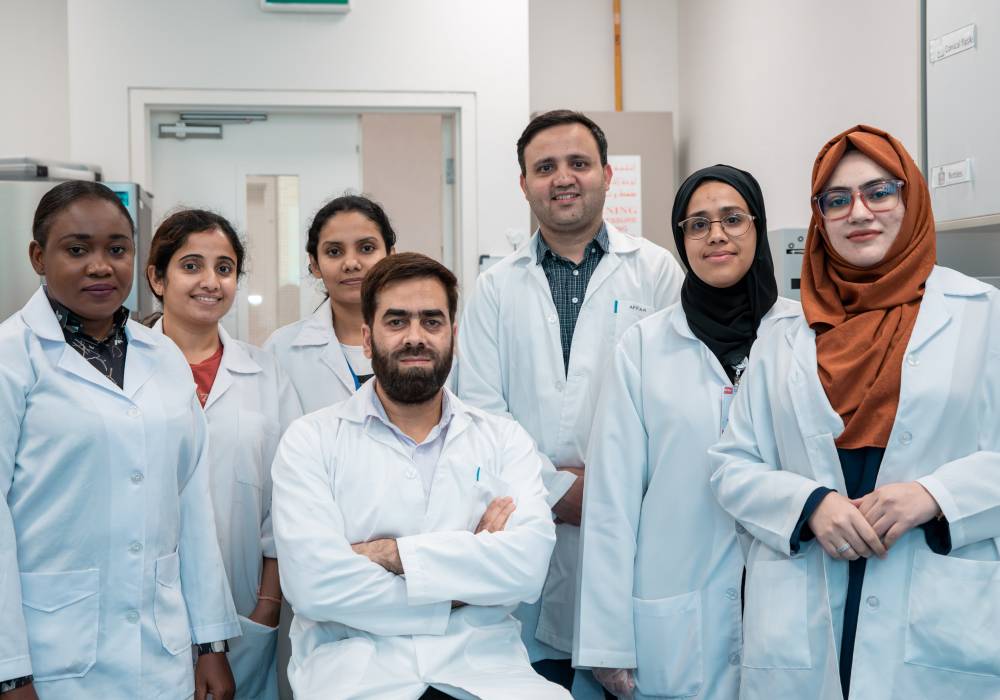 The date fruits are considered as a significantly important crop in the Arid and semi-arid regions of the world and United Arab Emirates (UAE) is one of the largest producers and exporter of date fruits with about 160 different varieties being produced in UAE. The actual date palm tree population in UAE is about 44 million of which 8.5 million are present in Al-Ain region with 76,000 tons of dates produced per year in UAE.
Date seeds generated as wastes or by-product from date fruit processing possesses numerous nutritional and health benefits due to its richness in bioactive compounds and high antioxidant, antimicrobial and anticancer properties that make it interesting bioresources for efficient utilization into food and nutraceutical applications.
Till date, the extraction of bioactive compounds from date seeds have been carried out using conventional solvents like ethanol, and methanol, these solvents are not safe for both human's and the environment. Similarly, the conventional method of extraction of bioactive compounds requires longer time (sometimes days), and high quantity of extraction solvent which make the process costly. Hence, the need for the search of non-toxic and ecofriendly solvents that can replaced these conventional solvents and also research on a fast extraction process that need less quantity of solvent is needed.
In the Food Chemistry lab at Department of Food Science, we are applying novel green extraction technology using Natural Deep Eutectic Solvents (NADESs) for recovery of different bioactive molecules from date by-products and wastes. NADESs are considered as the solvents of the 21st century and are potential alternatives to organic solvents. NADESs have been recognized as a novel class of sustainable green solvents because they are made from widely available, naturally occurring, non-toxic biodegradable components. Recently, NADESs have been considered as promising new green solvents in areas such as foods, cosmetics and pharmaceuticals.
Further, such green solvents are used in combination of emerging extraction technologies like microwave and ultrasonication which further enhances the extraction efficiency. In line with this, our research group has been successful to extract different bioactive molecules from date seeds powder (DSP) and other by-products using different types of NADES and emerging extraction technlologies (microwave assisted extraction (MAE). The NADES that produced good amounts of bioactive compounds were optimized using response surface methodology (RSM). The optimization was carried out to know the best extraction conditions in terms of temperature, time and %NADES content.
Our research clearly indicated that using green extraction solvents for date seeds showed that NADES were highly effective for the extraction the phenolic compounds. Interestingly, the extraction of biomolecules from DSP by using NADES had higher yield compared to 80% ethanol, which is used very commonly as a conventional solvent. This novel green extraction technology is expected open up the doors to explore available renewable natural bioresources for green applications in date industry in UAE. Also, the by-products of date industry are aimed to be valorized by exploring their nutraceutical potential and applications in food-based products. Thes findings will allow evaluating the opportunities for industrial collaboration and formulating novel functional food product(s) having UAEU associated with their brand.
---
This research is funded by UAEU through its National Water and Energy Center.
Do you find this content helpful?
لايوجد محتوى عربي لهذه الصفحة
يوجد مشكلة في الصفحة التي تحاول الوصول إليها