UAEU Students Tap Into UAE Resource to Address Critical Environmental Issues
With around 40 million date palm trees spread across the UAE, the United Arab Emirates University students are finding innovative and sustainable ways to tap into the resource.
The innovative biodegradable cutlery made from date palm waste is being developed by Noran Mousa and Sabeera Haris, both PhD scholars at the University s College of Engineering; Emmanuel Galiwango, a recent PhD graduate; under the supervision of Prof. Ali Al-Marzouqi and Prof. Basim Abu-Jdayil in the Department of Chemical and Petroleum Engineering, and industrial partner, Yousuf L. Caires. Such work is crucial nowadays, in supporting the United Nations Sustainable Development Goals (SDGs) to sustain the planet s future.
After graduating from her Bachelor s degree in Chemical Engineering at the UAEU in 2018, Mousa began working with her professors to create a date palm waste-related innovation. Shortly after, they found interest in the product from Caires, who started off with making paper from the waste, and joined the professors and students in creating cutlery to replace single use plastics. We thought about the dangerous problem we are facing relating to using single use plastics because they take thousands of years to degrade and they are dumped in the ocean, Mousa says. They are the main source of air and soil pollution, so we wanted to produce biodegradable and green cutlery.
Emmanuel Galiwango, who is currently working as Post-Doctoral Fellow in Canada, was one of the key players in shaping the project thanks to his work in producing high value chemicals from date palm waste. The product took two years to develop, during which Haris joined in 2019. As a PhD student in Water Resources at the UAEU, she opted to contribute to the project on the sidelines to help in optimising the best formulation to obtain sustainable cutlery. Following a number of tests, the team was able to successfully produce Palmade forks, knives, spoons and stirrers by grinding date palm leaves and mixing them with polylactic acid, before developing the biodegradable cutlery which can replace single use plastics. Currently, available cutleries in the market are not purely biodegradable, Haris says. But our product is a whole new bio-composite that is 100 percent biodegradable and we can develop various products out of our bio-composite .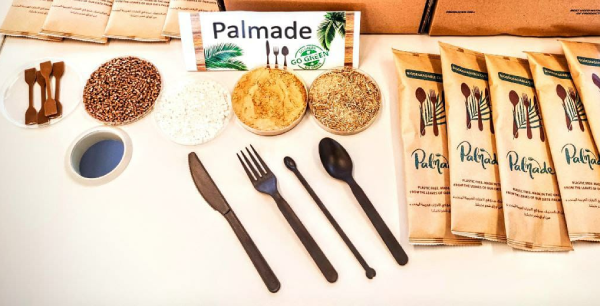 Most petroleum-based plastics are considered non-biodegradable, causing much harm to the environment. For Haris, the project was of great interest as it fills a gap in the market while helping the environment and tapping into the UAE s annual 500,000 tonnes of date palm waste, which are currently disposed of in landfills or burned on farms, causing further environmental pollution and global warming.
Soon enough, Caires launched a commercial facility in Dubai s Jebel Ali where the single use cutlery is currently being produced. As a result, date palm waste is today being used as a reinforcing tool with polylactic acid in cutlery applications while solving a major environmental issue in the UAE.
Mousa describes the achievement as a dream come true, having pursued a Master s degree in Chemical Engineering at the University to help solve environmental challenges. From the start of her studies at the UAEU, her goal has always been to launch research work that could help maintain the sustainability of the environment and improve the overall wellbeing of people, while reducing waste to help achieve net zero goals.
Following their application for a patent and food safety certification by the Dubai Municipality, the product was launched at Dubai Expo 2020, where they are currently displayed.
The University has provided state-of-the-art facilities for the students to conduct the required extensive research along the way. Students commended their professors for their futuristic vision of targeting products that can be commercialised on the market and taking students outside of the laboratories to expand on their teaching. All our research is about diverting waste in the UAE to develop value-added products, Haris explains.
Mousa echoes similar thoughts, noting that the UAEU strongly engages with the industry to meet different market needs, in an aim to help students with their research and the community at large. We can see the results directly, she says. Once we finish our work, we can touch it and our dream is real.
Valuable collaboration with other local universities has also proven to be beneficial, should tests that are not available on campus be required. Ultimately, the team considers the UAEU to be their top choice when it comes to the quality of its facilities and the diversity of its courses.
Do you find this content helpful?
لايوجد محتوى عربي لهذه الصفحة
يوجد مشكلة في الصفحة التي تحاول الوصول إليها