UAEUBot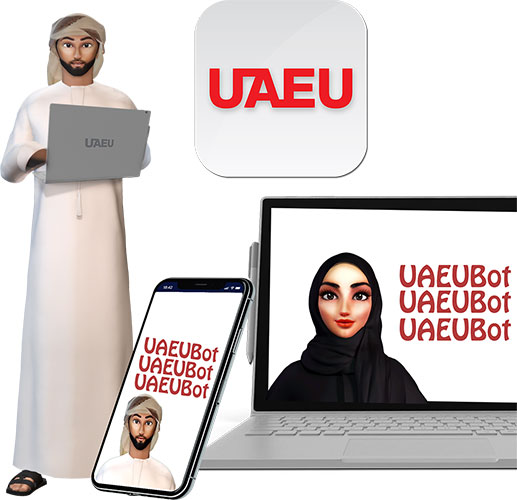 UAEU Bot is an application targets to help UAEU Student to find information easily. It aims to automate the interaction with student by simulating human conversation through voice commands and text chats. The current version of the bot provides the following:
The university timetables, locations, contacts of various services like Admissions, Library, Facilities,
Main most FAQ about Admission, Registration, Library, Student Campus services and about some common IT services and support.
Integrated with Student Information related to GPA, Grades and classes.
Service Available to:
Students, Alumni, Faculty members, Staff, and public.
How to install the UAEUBot App:
There are three different options to install UAEU Mobile App:
Click on the below Icon within your mobile device, or
Scan the below "Bar code" as below, or
Go directly to the device relevant application store:
Search for "UAEUBot"
Download the free app to your mobile device.
Open the app and explore it.
UAEUBot Features
UAEU Bot comes with lot of feature to engage the student with bot conversation:
Bot has options of Speech-To-Text and Text-To-Speech
It supports both English and Arabic conversations.
It provides users with Male and Female Voice option.
It provides options to capture user feedback for each answer using the "Like" and "Dislike" buttons.
It provide user with Nudges; other suggestions or follow-up answers
It provides supportive feature for the given answer such as: reference link, share answer
It provides gender-based location information (i.e. female student will get answers related to female campus)
Applications comes with two themes: light and dark
App can be used with/out login to allow public access for general info about UAEU
App is integrated with UAEU system to allow searching for;

UAEU Programs Catalog,
UAEU Academic Calendar and
UAEU Person Directory

App provides automated services such as;

Report a Technical Problem,
Update your Personal Contact Information and
Reset/Change your Password
Do you find this content helpful?
لايوجد محتوى عربي لهذه الصفحة
يوجد مشكلة في الصفحة التي تحاول الوصول إليها