About CEDU
Overview
The College of Education at the United Arab Emirates University is one of the most important pioneering and strategic colleges in the higher education system. It plays a leading role in preparing educational and teaching staff to achieve the strategic vision of the educational process in the country.The College of Education was established in 1977 as one of the first four Colleges in the United Arab Emirates University (UAEU).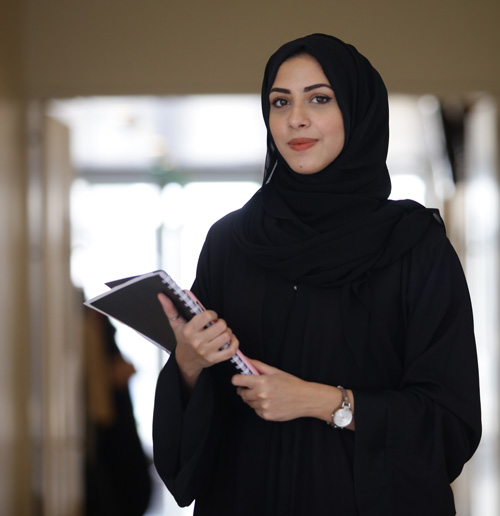 The College offers a range of programs which prepare students to be teachers and education leaders, as well as providing research, seminars and professional training to meet the educational needs of the Nation. There are four academic departments: Curriculum & Methods of Instruction, Foundations of Education, Physical Education, and Special Education.
The College offers undergraduate degrees to prepare teachers in the fields of early childhood education, special education, and physical education. The graduate level provision at the College is extensive, including: the Masters of Education (MEd) program with concentrations in: Early Childhood Education; Special Education; Educational Leadership; and Curriculum and Instruction (Mathematics, Science, Arabic, English and Social Studies); the Masters of Educational Innovation offered in cooperation with Hamdan Bin Rashid Al Maktoum Foundation for Distinguished Academic Performance; and the Accelerated Masters in Special Education (4+1). In addition, Doctoral level programs are offered in: Language and Literacy Education; Mathematics Education; Science Education; Leadership and Policy Studies in Education; and Special Education.
The mission of the College of Education is to facilitate the continuous improvement of education in the UAE through active and collaborative national and international partnerships. The College provides a learner-centered environment that promotes excellence in teacher education, research and scholarship, community service and program design, and active participation in policy development. The College of Education aspires to strengthen its innovative leadership as a center of academic excellence in the region and is committed to preparing teachers and school leaders to demonstrate knowledge, skills, and professional dispositions in accordance with globally recognized education standards.
Partnerships with high profile organizations is of upmost importance to the College. One notable collaboration was the establishment of the Sheikha Fatima bint Mubarak Research Center for Motherhood and Childhood, hosted at the College of Education and established in collaboration with the Supreme Council for Motherhood and Childhood.
In collaboration with Zayed Higher Organization for People of Determination, CEDU successfully developed the first Adaptive Behavior Scale for People of Determination. This is the first scale in the world that combines the direct examination of a child by the specialist and the caregiver's assessment of certain aspects of their growth in addition to the teachers' ratings.
The College of Education holds international accreditation from the Council for the Accreditation of Educator Preparation (CAEP) in the United States of America which is considered the highest accreditation in the world for teacher preparation accreditation programs. This exceptional recognition was awarded in 2021 and extends for seven years. This is in addition to all academic college programs obtaining local accreditation from the Commission for Academic Accreditation (CAA) from the Ministry of Education.
CEDU faculty are involved in international joint research, and successfully being awarded two collaborative research grants with two prestigious UK universities: Oxford and University College London.
Dean's Message
The College of Education (CEDU) at United Arab Emirates University (UAEU) is a leading college for the preparation of professional educators in the UAE. The CEDU is guided by the latest scientific research that impacts the education field and is proud of its innovative academic programs which are based on leading international standards for teacher preparation. Through our undergraduate and graduate programs, we strive to meet the educational needs that keep pace with national and international trends in the development of teaching skills and scientific research skills, and at the same time, we are dedicated to preserve UAE national identify and traditional values.
CEDU aspires to strengthen its innovative leadership as a center of academic excellence in the region and is committed to prepare teachers and school leaders through flexible, online educational opportunities, alongside face-to-face interactions to guarantee that adequate, timely, and meaningful provision of services remain uninterrupted despite extenuating conditions. CEDU aims to fully realize the theory-practice nexus by ensuring that the preparation of teachers and school leaders are based on current educational research locally and internationally, and that the continuous development of life-long knowledge, skills, and professional attitudes are in accordance with latest trends in research and globally-recognized education standards. Bachelor, master and doctoral programs at the CEDU contribute in preparing specialized educators across different levels, education leaders and principals with advanced management skills, specialists in education policy analysis, and distinguished educational researchers.
College of Education faculty and staff come from diverse educational backgrounds from 18 different countries working together to enrich the college's academic and professional practices, and definitely strengthening the steadfast dedication toward excellence in teaching, community service and research for the local and the international learning communities.
Tapping into its strength and opportunity in engagement with stakeholders, the College of Education continues development activities that include national and international accreditation of its educational programs, development of new graduate programs, fostering teaching innovation among faculty and students. We are proud to be the host college of Fatima bint Mubarak Motherhood and Childhood Research Center and to have signed memoranda of understanding with national and international partners.
College of Education graduates are distinguished community members who successfully work in different capacities in various ministries, organizations, and foundations around the Emirates, and the world. It's a proven fact that with their unique knowledge, skills, and educational experiences, our alumni can shape the future the UAE is ultimately seeking.
I invite you to explore our website to learn more about our faculty, students, programs, as well as the activities and services we offer.
Prof. Hala Elhoweris
Acting Dean, College of Education
Vision and Mission
Vision
College of Education aims to be the leader in the region in utilizing research-based approaches in preparing successful future-ready learners in the United Arab Emirates (UAE), through a wide range of graduate and undergraduate disciplines.
Mission
CEDU strives to address societal needs through evidence-based research, scholarship, development of learning and teaching, and service to our national, regional, and global society. In all of this, CEDU seeks excellence in its program delivery modes (i.e., face-to-face, blended, and online/distance approaches) utilizing a strong theory-practice nexus approach.
Core Values
Excellence
CEDU values excellence in teaching, research, and service and continuously strives for distinction and exemplary outcomes.
Innovation
CEDU is dedicated to embrace spirit of innovation in teaching, research and service among its faculty, students, and staff.
Integrity and Dignity
CEDU placing utmost value in conducting academic activities according to the highest standards of academic and professional integrity, honesty, and trustworthiness.
Diversity and Equity
CEDU carefully consider the significance of cultural diversity, equity, and social justice to ensure that faculty, students and staff are supported and valued regardless of their background and strives to embrace the power of diversity to foster an inclusive and caring environment.
Collaboration and Public Engagement
CEDU is committed to forging local and international collaborations and providing much needed services to the community and stakeholders through outreach, research, and partnerships.
Empowerment
CEDU empowers its faculty, students, and staff to thrive and make the community a source of strength and creativity.
Accreditation
Accreditation is quality assurance through external peer review. A university, college, or specialized program is accredited when it meets standards set by an accrediting organization that represents the academic community, professionals, and other stakeholders. Accordingly, institutions and programs must undergo regular reviews to maintain their accreditation.
The College of Education (CEDU) at UAEU received in 2021 the official accreditation from the Council for the Accreditation of Educator Preparation (CAEP). CAEP is the world's largest top teaching education program accrediting board recognized by the Council for Higher Education Accreditation (CHEA), a national coordinating body for U.S. accreditation that advocates for and promotes academic quality, institutional improvement, and advancement of student success. CAEP's standards are developed to ensure excellence in educator preparation programs.
CEDU accreditation by CAEP is effective until Spring 2028. It is granted at the initial-licensure level:
Early Childhood Education,
Special Education, and
Health and Physical Education.
CEDU meets the rigorous CAEP Standards to prepare the teachers of tomorrow to become competent, effective, and hired by employers.
Accredited Training Provider by the National Qualification Center (NQC):
The College of Education was accredited as a training provider by the National Qualification Centre (NQC) in August 2023 for three years. In addition, the College of Education received accreditation from the NQC to offer a Professional Diploma in Special Education for Zayed Higher Organization for People of Determination.
Facilities
The College of Education maintains a safe, healthy and attractive campus environment for its students, faculty, staff and visitors in Al Ain. The main campus is a state-of-the-art futuristic model campus complete with all modern amenities and the latest cutting-edge technology to support the needs of the University's teaching, research and service mission.
Community Service
Since its establishment in 1981, the College of Education has been working to serve the community in many ways:
Working with the Ministry of Education in preparing the school curriculum;
Working with the Ministry of Education in providing professional development for principals and teachers (in-service training);
Organizing and participating in the educational conferences, forums, and workshops;
Providing consultancy services to schools and other education centers in teaching, assessment, student performance, classroom management, etc;
Working closely with the educational awarding bodies in the nation to provide consultancy and to work as reviewers (e.g. Khalifa Award, Hamdan Award, Sharjah Award, etc)
Providing special education services to the community though the ARU (Assessment and Remedial Unit) such as; hands-on workshops on instrumentation and rehabilitation of students with hearing loss. The department also conducts workshops for occupational therapy, report writing, phonetic transcription, documentation, vocal laryngeal massage and vocal function exercise.
Do you find this content helpful?
لايوجد محتوى عربي لهذه الصفحة
يوجد مشكلة في الصفحة التي تحاول الوصول إليها